The Essential Guide for Startups Using Social Media
In years gone by, it was enough to create some business cards and set up a website, but today you need so much more. Today, your prospects are ever more social online, and your audience will expect to not only see you but also interact with you via social media. Too many startups view social media as an afterthought rather than an essential part of succeeding in business. They soon discover just how critical it is for encouraging interest, building a reputation and developing lasting relationships with potential customers Fortunately, you have this essential guide to help you start off on the right foot.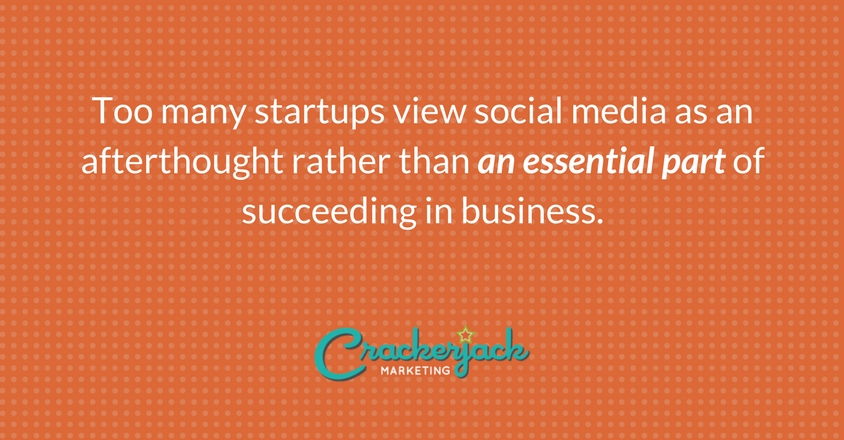 Choose the Right Startup Name
Choosing a name is one of the hardest tasks a new business will ever undertake. It's easy to come up with names when you're just dreaming of starting a business, but when it's time to get started, nothing seems to feel quite right anymore. Why? Well, because there's so much riding on this name. It has to be just right for your endeavor, and it has to be both catchy and memorable. It has to make an impression, reveal something about your company and inspire people to remember you. And as if that's not enough, the name has to be available for use. Naming your business exactly the same name as another business can be a recipe for disaster.
Okay, breathe. Yes, it can be difficult, but you can do this. Go ahead and start with these great tips for naming your startup:
Get to brainstorming
Brainstorming is the first step in choosing the right startup name. This part is easy. Jot down a list of words that describe your startup. Don't think too hard about this or even take it too seriously. The time for that will come later. For now, you just want a basic list with which to work. If you run out of words that fit, head on over to Thesaurus.com, and type in the words you've already jotted down. Add some synonyms for the words you brainstormed to generate an even longer list.
Review what you brainstormed
Start crossing the words you absolutely hate off your list. Next, review the list again and get rid of the ones you only like just a little. You should be left with the words that best describe your company. Play around with these words to see if you can use them to come up with a catchy startup name. For example, you might end up with the right name by combining two or three words on your list, or you might build your company name by making one word out of two, such as in Facebook and Firefox.
Consider how the name you've dreamed up sounds
Does the name you're considering easily roll off the tongue? Does it include words that rhyme, such as in HotSpot? Is it fun to say? Does it evoke the types of feelings you want it to? Your name doesn't have to rhyme or strike a fantastically melodious chord, but it should be easy to say. If it's fun to say, that's a definite bonus. Try different word combinations by saying them aloud several times before you choose, and have some friends try them out too.
***Hint: You will also need to choose a domain name, and it can really help to work on figuring out a business name and a domain name at the same time. Be sure to scroll down to the Choose the Right Domain Name section (next!) for tips.
Check on availability
There's nothing worse than getting your heart set on the perfect startup name and then discovering that it's already taken. Before you get too attached to that magnificent moniker, do an online search and make sure it's not already taken. NameChk can help you with your search. Look for your desired name in the U.S. Patent and Trademark Office database as well.
Opt for creative and different
Some companies choose names that don't mean anything or at least aren't commonly used (Think Kodak and Google!). Others choose a word from a foreign language or select words for impact rather than meaning. This type of approach can really work for you as long as the name you choose will fit your brand image. In fact, a creative made-up or out-of-the-ordinary name can help you stand out in a sea of competition.
Choose the Right Domain Name Too
You probably thought you were finished after you chose a brilliant business name. Sorry! There's still work to do. The right domain name is just as important as the perfect business name. Today, your prospects expect you to not only show up online but also prove easy to find. If your business name sets off fireworks, but your domain name is too obscure, difficult to spell, or impossible to remember, it could hurt you on the Internet.
Here are some tips for choosing the best domain name for your business:
Choose a domain name that is as close to your new business name as you can get
You may not be able to get AcmeWidgets.com, but maybe you can get AcmeWidgetsSeattle.com. Try different permutations of your business name, or add your location or another descriptor.
If at all possible, go for a .com domain
.com domains are still the most common and most used for business, at least here in the U.S. If you're trying to match your existing business name, you can consider a .net, .co, .info or .us domain, but be aware that most people will still type in your domain name with a .com on it. Take some time to check and see who will be the beneficiary of all the traffic meant for you that ends up going elsewhere. If it's your #1 competitor – don't do it. Find something else with a .com domain.
Make it memorable, but not too long
One and two word domains are nearly impossible to get these days, unless you buy them from someone else (often through a broker like Sedo.com). So you may need to go to three words or more, but try to keep it as short as possible while being descriptive and memorable.
Spell it out
When you're considering a new domain name, say it out loud a few times and try it out on other people. You'll often tell people your domain in person or over the phone. If it's a true pain to spell or explain, you'll get really frustrated when people don't get it. So instead of Widgets4U.com or Widgets-4-You.com, try to get WidgetsForYou.com. Or even better, WidgetsInWyoming.com. That's far more descriptive and easier to convey all around.
Don't rush it
This is an incredibly important decision. Don't rush it, and don't just grab the first domain that's available. Check out tools like DomainNameSoup.com to play around with and try a bunch of different options. Try the multiple choices or word combinations functions.
Go with a reputable registrar
When you're ready to buy your domain, use a reputable domain registrar, such as enom or Namecheap.
Make Social Media a Priority
Recognize that social media isn't a mere add-on. It can be a critical component of getting noticed, meeting goals, and enjoying continuing success. Make it a part of your plans from the very beginning.
Develop a social media strategy
It's perfectly fine to post willy nilly on your personal social media account. When it comes to your startup, however, it's critical to start with a strategy that will help you meet your goals. Every post, share, and comment should fit that strategy and the image you want to project.
Set up social media accounts
Where do your prospects spend time? Find out and make sure you're there too. Many startups begin with at least Facebook (over 1 billion users around the world) and Twitter (over 300 million monthly users around the world), but if a large segment of your audience is on Instagram, you want to make sure they can find you there. If your start up is B2B, you'll definitely want to have a presence on LinkedIn while Facebook and Twitter are top choices for marketing to consumers.
Do create a company blog too, as this can prove your most engaging platform of all. With your blog, you have the opportunity to develop a strong brand personality via blog posts and videos.
Of course, this is a lot to accomplish all at once. Consider starting with one platform and developing that until you feel confident that you can manage and continue to grow that presence even after adding another platform into the mix.
Craft an amazing profile
Many startups set up social media accounts in haste, creating barebones profiles and generic avatars, thinking they'll set up better profiles later. Don't do this. You only get one time to make a great first impression. Your audience has other options, and when they find you online, you want them to feel sure that connecting with you is a good one. Start out with an attractive, eye-catching avatar that perfectly represents your startup, and create a profile that entices your audience to check you out.
Create an editorial calendar
Create an editorial calendar before you begin posting to your social media accounts, and update it regularly – either weekly, monthly or quarterly. Planning out your editorial content in advance takes away the "I don't have time to write today" problem that most people have and makes publishing content as easy as queuing it up and clicking a button.
Develop social media that informs, explains, and answers questions before they're asked
At first, you may not receive a lot of questions and comments. That's okay! You're brand new! However, that doesn't mean that you shouldn't answer those unasked questions. Put yourself in the shoes of your average prospect and customer, determine what you would want to know in their place, and then create content that provides that information.
Avoid posting dry, dull content or being overly promotional
It doesn't work to sell, sell, sell to your audience via social media. Instead, work on providing content that tells your story and helps make your audience members' lives easier and more interesting. Be sure to make it engaging enough that people will want to consume it and pass it along.
Provide customer service via social media
Take advantage of social media to provide great customer service to your customers. Respond to their questions and concerns, offer real help when needed, and use your customers' suggestions and comments to make your products and services better. Being responsive in this way can really give your startup a boost, encourage loyalty from your new customers, and show prospects that you're a business they can trust.
Listen, interact and react
Devote time each day to monitoring your social media accounts, checking in at least a couple of times per day on each of your social media platforms. Tools like Hootsuite, Social Mention, and Talkwalker can help you monitor what others are saying about your brand.
Respond to comments, answer questions, share posts, and follow others. Being social helps you gain more exposure and encourages your audience to engage with you.
Use this guide to make real headway with social media for your startup. We've provided the basics you need to achieve success. Don't be afraid to experiment as well, however. Creativity (within the bounds of a solid strategy) can win points on social media.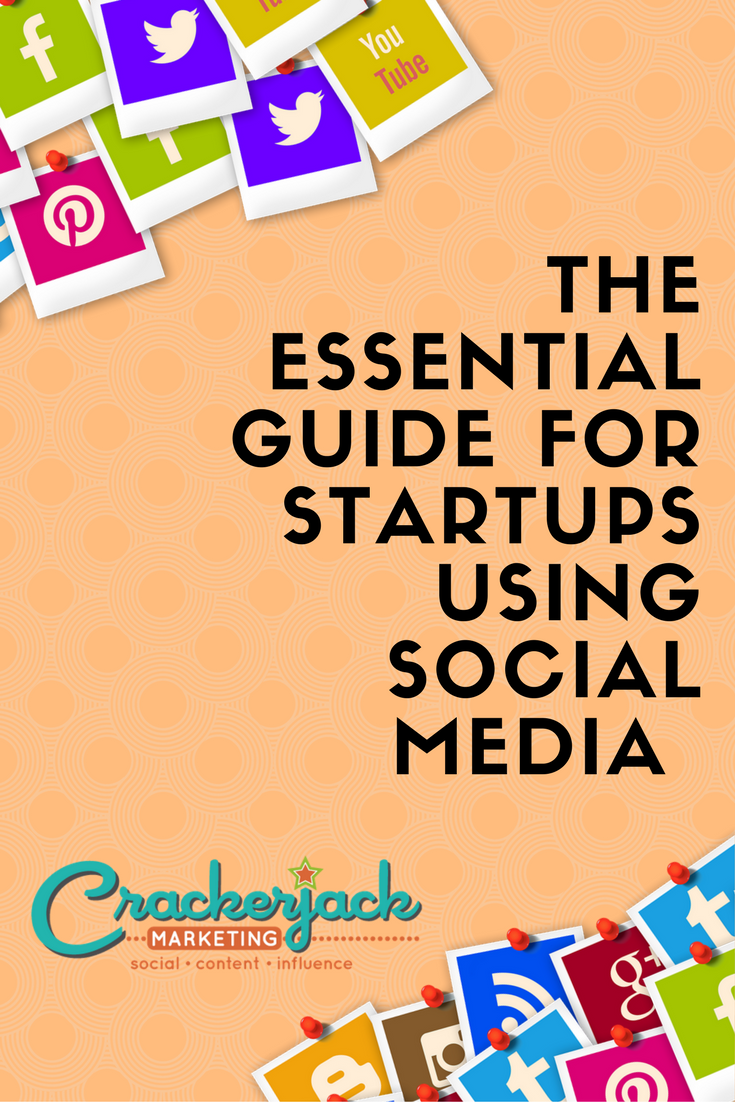 The following two tabs change content below.
Latest posts by Crackerjack Marketing (see all)
https://crackerjackmarketing.com/wp-content/uploads/2016/09/The-Essential-Guide-for-Startups-Using-Social-media.jpg
440
844
Crackerjack Marketing
https://crackerjackmarketing.com/wp-content/uploads/2017/02/CJM-Header-Logo-New.png
Crackerjack Marketing
2016-09-22 08:00:26
2022-06-10 22:07:07
The Essential Guide for Startups Using Social Media