The Winning Content Formula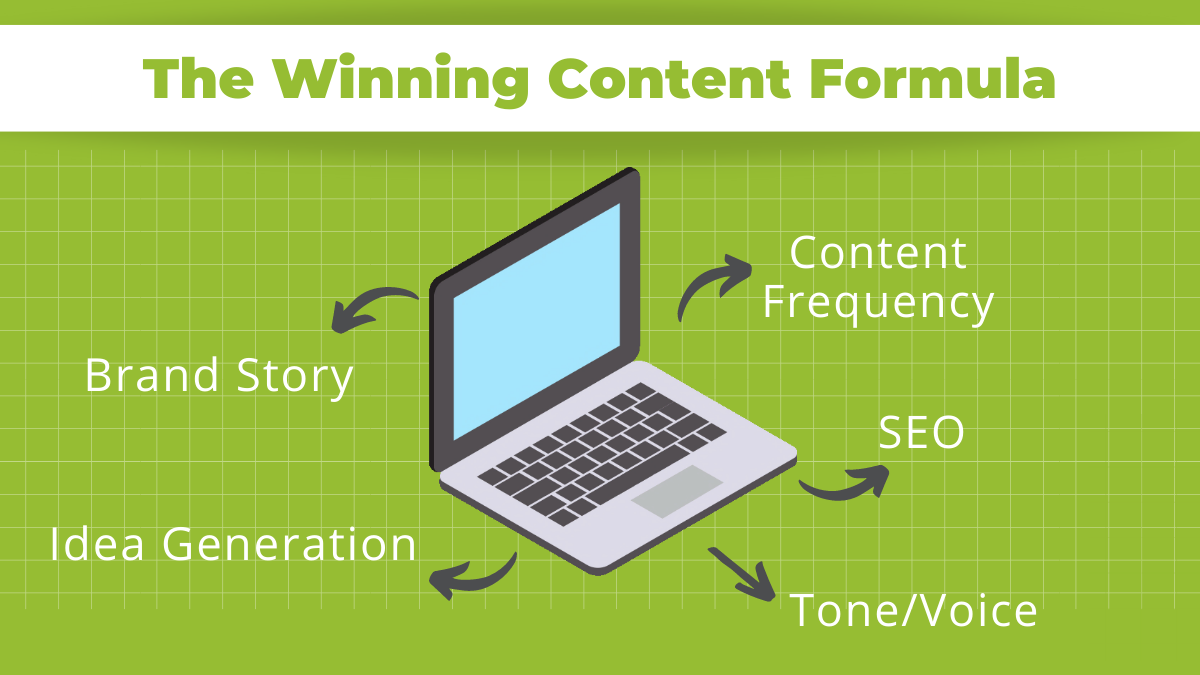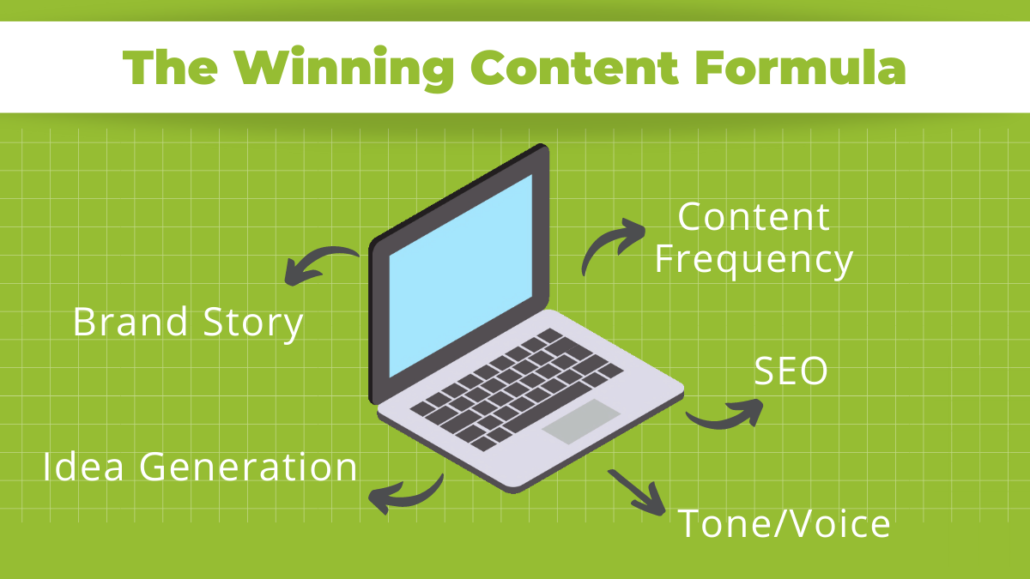 Remember 9th grade chemistry? Trying to learn all those formulas and hoping an unfortunate experiment gone wrong might cancel the rest of class?
Well, that was my experience. I'm not "science-minded" by any stretch of the imagination.
But, I do understand that when things come together in the right combination, something magical can happen. Even the most basic, elemental components are capable of producing groundbreaking results.
In marketing, there are also the "basics." For example, marketing channels: email, social media, your website, paid advertising. Another essential component is SEO.
The Winning Content Formula
As a business owner, you know these are key tactics to engage your audience and get more leads. How you use those channels becomes specific to your unique business. It becomes your winning content formula. Let's look at some examples:
Brand Story
Whether in your emails, blogs, social media, or any other place customers and potential customers find you, they need to understand what your company is all about. Not just what you do, but who you are. Your brand story should form an emotional connection with your audience. It might include things like:
Why did you start your business?
How long have you been in business?
What obstacles did you encounter along the way?
What's an example of a client you helped achieve their goals?
Why is your business unique?
One great way to add to your brand story is through user-generated content (UGC). Who better to bring an authentic, outside view of your business than someone who has had a good experience with it? Here are just a few ways to incorporate UGC in your marketing:
Photos and videos on social media. If someone tags your brand, engage with them! Reshare, post a comment, give them a shout-out in any way.
Testimonials. Sometimes it can feel uncomfortable to ask for a customer testimonial, but many times people are more than happy to share how you helped them.
Reviews. You can also use positive feedback from your reviews to promote your business via other marketing channels (e.g. email, website, social media).
Tone/Voice
How you "speak" to your audience is sometimes dependent on the industry in which you operate. While it's important across industries for customers and prospects to view you as an expert in your field, the tone or voice you use in your messaging can have limitations.
For example, a financial services consultant or insurance agency owner likely benefits from a very professional, straightforward approach. But, a nutrition coach or personal fitness trainer has the liberty of using lighter, more playful messaging. This is not to say the former can never have fun with their communications – but it may be best reserved for something like holiday greetings.
This also includes your use of memes or emojis in your content marketing. Again, it may be more appropriate in some industries versus others.
Frequency
Consistency should always be front and center within your marketing efforts. This keeps your business top of mind. Yet, the frequency with which you deploy communications might vary based on your industry.
Going back to the nutrition coach – you might think about posting a nutrition tip every day on social media, or even sending a daily email with "Today's Bite." The insurance agency may decide to post daily on social media but not necessarily send an email every day.
One word of caution: You never want to sacrifice quality for quantity. If you can't produce high-quality content at the frequency you desire, it's time to scale back. Believe me, your audience will respond to well-thought out ideas and advice far better than something you threw together at the 11th hour.
It can be a little overwhelming to keep track of all your content marketing, whether it's email, social media, or blog posts. That's why it's so imperative to have a structured editorial calendar. This will allow you to get a comprehensive view of which channels you're posting in, the topic, frequency, and "type" of content (e.g. welcome email vs. nurture email vs. offer/promotional email).
Idea Generation
The recipe concept also applies to which topics you write about. It's very rare that a competitor in your industry is reinventing the wheel – even though we're often fearful that is taking place!
Here's an example: We all know that moving our bodies is good for us. It's certainly better than a sedentary lifestyle. But, "moving your body" means one thing to some personal trainers and another thing to others. Think: cardio versus weight training, or high intensity interval training (HIIT) versus steady, time-paced runs.
Taking a basic premise is the starting point of idea generation. Then, you can put your own flavor on it to bring it to life for your particular product or service. Even if you and a competitor agree on the approach (e.g. HIIT is the bomb!), you can still talk about it in a unique way.
A Word on SEO
I want to quickly circle back to SEO. This is one area where it's difficult to apply your own spin. There are certain standards that remain steadfast when optimizing your website for SEO (e.g. title tags, keywords, image tags, internal links, backlinks). When algorithm updates occur, they impact everyone.
And while SEO is often perceived as a complex, insurmountable summit to climb, there are simple actions you can take to improve your ranking and visibility, such as:
Removing any broken/dead links
Avoiding duplicate content
Performing keyword research
Improving load time (the time it takes to load your web pages)
Keeping URLs as simple/short as possible
Adhering to SEO best practices, such as blog word count
What's Your Winning Content Formula?
You certainly don't have to be a chemist to create a winning content formula for your company. In following these tips, you can build a presence that reflects who you are, what you do, and why people should buy from you. Done with the right amount of each component, rest assured they will.
The following two tabs change content below.

Sylvia Anderson
Sylvia fashions herself a "content chameleon," having dipped her toe (okay, whole leg) in the pools of various genres and mediums. Her ability to adapt her voice to copywriting, social media, screenwriting, non-fiction children's books, blogging, podcasting, and poetry makes her a "Jane of All Trades" when it comes to the content scope. Raised on a dairy farm in rural Minnesota, Sylvia has since become an official Angeleno–residing in Los Angeles, CA for the last 15 years–where she *attempts* to stay cool (but enjoys being able to run outside nearly every day). When she's not writing, running, or watching sports, she delights in the company of her two fur baby kitties, Mac and Cam.

Latest posts by Sylvia Anderson (see all)
https://crackerjackmarketing.com/wp-content/uploads/2022/08/The-Winning-Content-Formula.png
675
1200
Sylvia Anderson
https://crackerjackmarketing.com/wp-content/uploads/2017/02/CJM-Header-Logo-New.png
Sylvia Anderson
2022-08-23 08:00:00
2022-08-24 14:55:40
The Winning Content Formula