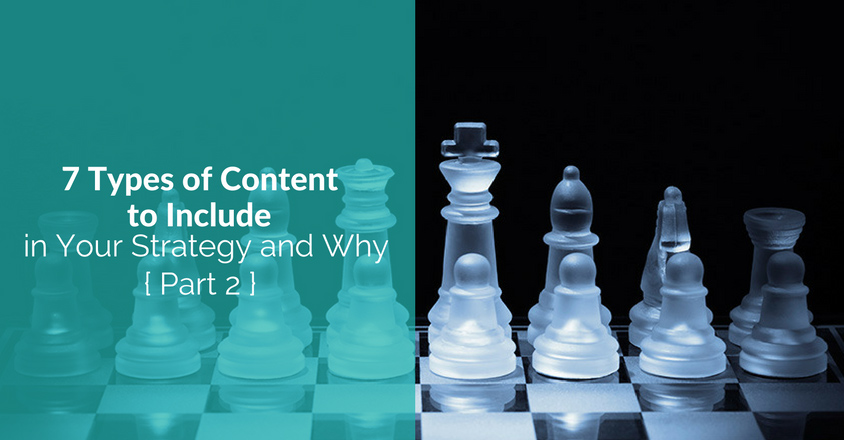 In my last post, I looked at the importance of including long form articles, data rich infographics and online video in your content strategy. Now here are four more content types to round your strategy out.
4. Social Media Posts
The mobile shift provides another reason to do social media well. Statistics from ShareThis show that people are twice as likely to share content from mobile devices as from the desktop. So creating shareable social media content is a must.
For this, it's essential to think beyond the tweet. Short social media updates have their place, but it's also important to include:
images, which can be easily shared on all networks
media, which many social sites embed
longer social posts, for Facebook, LinkedIn and Google+
In many cases, you can share the content you already have, but make sure to share content from others too – self-promotion must take a back seat to the goal of engaging your audience by the breadth and quality of what you share. It's the best way to get attention for your brand.
For networks that allow longer posts, take some time to craft summaries of the key points and add a question for discussion to increase your options for engagement.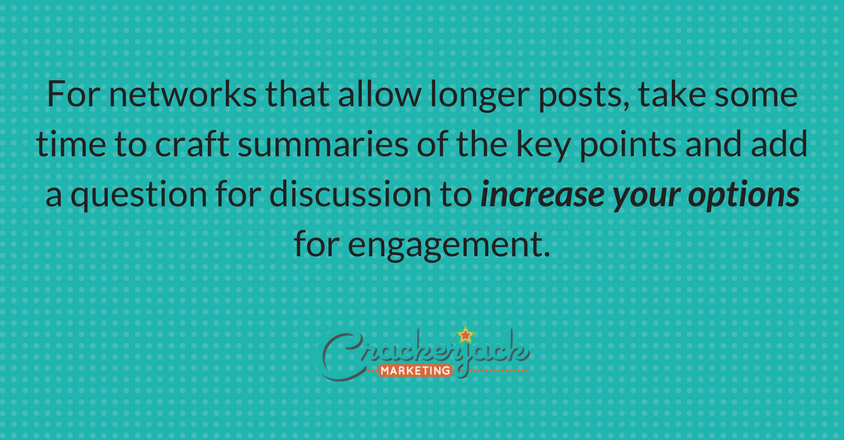 5. Educational Ebooks
With digital publishing on the rise, ebooks have become an important promotional tool for business. As Hubspot says, ebooks are a great way to educate your prospects while starting a relationship with them. Ebooks also show your knowledge and can be the first step in getting those leads into the sales funnel.
You have two options for creating your ebook: using content you already have or authoring an ebook from scratch. If you do a lot of presentations and have an active blog, it's easy to choose the most popular topics as the seed for an ebook. Alternatively, you may prefer to use an ebook to answer the questions that most customers have about your products or services.
With the help of a professional writer (and maybe a little bit of design assistance, too), you can create an ebook that is valuable and easy to read, which makes it more likely that readers will be interested in your next offer. This is something Hubspot does extremely well.
6. White Papers
From the outside, white papers may seem identical to ebooks, but they are not (though I believe the gap between them is shrinking and some people use the terms interchangeably). White papers typically focus on a customer problem, examine some of the failed or flawed approaches to that problem and show how your product or service can solve it. They tend to be more formal than ebooks and can be a good way of showing topic expertise. Many white papers are data-driven, sharing business and industry statistics to make the case.
If you are in the B2B market, then you can't afford to ignore white papers. As white paper expert Mike Stelzner points out, they are an excellent lead generation tool, are widely shared and are used to help businesses evaluate solutions to their most pressing issues.
7. Lead Converting Webinars
Lewis Howes believes that webinars are one of the most effective ways of converting leads to customers. Since most webinars are free, there's no barrier to entry, but only people who are already interested in the topic sign up, effectively pre-qualifying themselves. A webinar gives you the chance to talk to people for around 45-60 minutes in a focused way that's almost impossible on social media.
Webinars also allow you to offer more value to customers and prospects by partnering with experts and by taking the chance to explain complex concepts. The more people understand, the more the realize why your product or service could be a good fit for them.
Don't be fooled: webinars are hard work, so it's worth getting help to brainstorm topics and potential partners, work out the structure and create the slides. Then you can focus on what you do best by delivering the presentation and talking to attendees.
Add these seven types of content to blog posts for a well rounded content strategy that allows you to attract and retain customers no matter where they are in the sales funnel.
Learn how Crackerjack Marketing can help you get leads and sales with ebooks, white papers and webinars.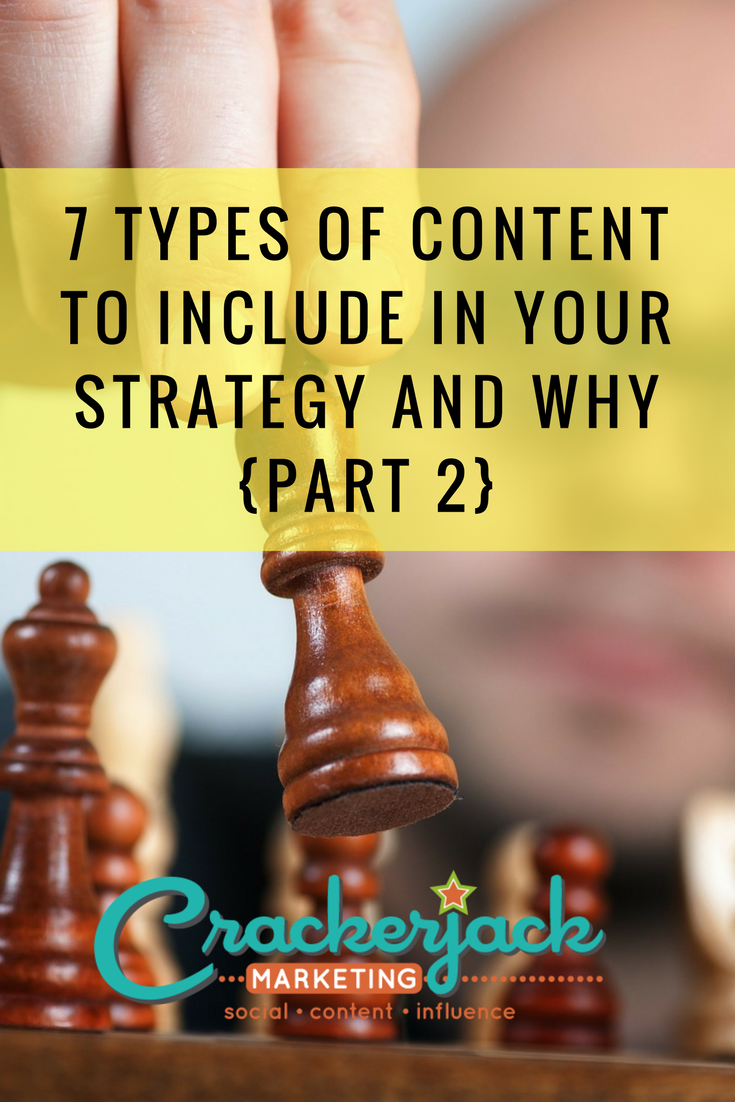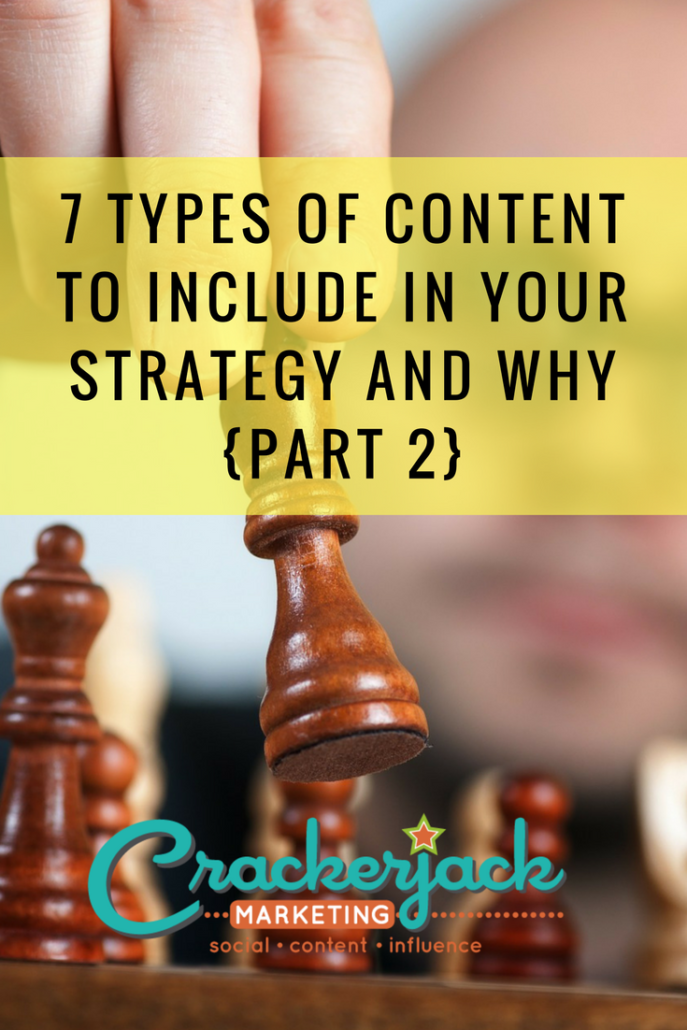 The following two tabs change content below.
Self-confessed word nerd and polymath Sharon Hurley Hall believes she has the perfect job - as a professional writer and blogger. And when she can indulge her geeky side and write about new web tools, it's a little slice of heaven.
Latest posts by Sharon Hurley Hall (see all)
https://crackerjackmarketing.com/wp-content/uploads/2015/02/7-Types-of-Content-to-Include-in-Your-Strategy-and-Why-Part-2.jpg
440
844
Sharon Hurley Hall
https://crackerjackmarketing.com/wp-content/uploads/2017/02/CJM-Header-Logo-New.png
Sharon Hurley Hall
2015-02-04 21:22:43
2022-06-10 22:08:23
7 Types of Content to Include in Your Strategy and Why {Part 2}