Editorial Calendar Continued: Blog Calendar Template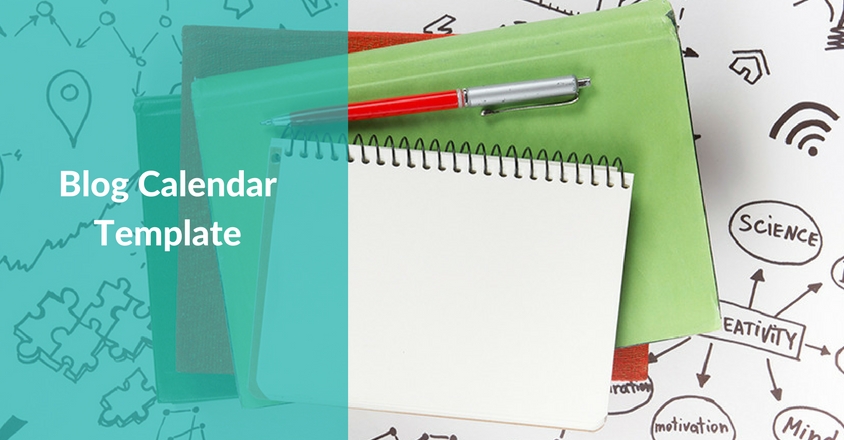 I've had a couple of requests for a copy of the spreadsheet I'm using to track my blog editorial calendar, so I've created a Google Docs version that anyone can view and download.
In the spreadsheet I've included what I consider to be the most important fields that you should fill out while creating your calendar, as well as some columns for tracking your results afterward.
I've used similar structures in various ways with different clients, depending on their style and needs. Here are some of the things I think about when I'm crafting and updating my blog calendar:
You can either program far in advance with "evergreen" topics that you know will be relevant a month or two from now, or you can program out a week or two and move posts around as new topics and ideas come up.  I mostly do the latter, though I do have a couple of posts queued up that could get slotted in anywhere.
I use the Topic Notes column like a scratch pad, and initially include everything I think could be relevant to a topic or post.  I then continue to add to that topic over time until I'm close to that  date and actually sit down to write the post.  It's then that I often realize that the topic might be too broad, in which case I split out some of the notes onto a new day in the future.  That is sometimes how a topic series develops – I determine that I have more to say on a particular topic than one post will contain, so I then program out one or more future posts as part of a series.
When I sit down to update the editorial calendar I give myself an hour or 90  minutes so that I can be as comprehensive as possible.  I do this once every week or two, plus quick updates most days to reflect actual posted information.
I also program out time to write the actual posts, striving to have the posts completed at least a day or two before they're scheduled to be posted so that I can sit with them a while and copyedit without time pressure.  Of course, this doesn't always happen (I do write plenty of same-day posts), but it's nice to do when I can.
Of course, part of the raison d'etre for most blogs is to be able to authentically participate in an conversation, so keeping your calendar loose enough to accommodate spur-of-the-minute posts on hot topics or in response to someone else's blog, Tweet or article is key.  I never hesitate to push a scheduled post to a future date if I've got something I just have to blog about immediately.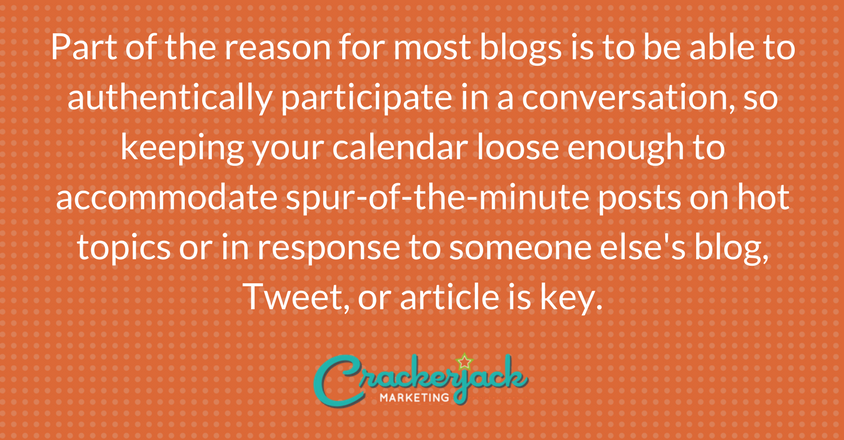 This calendar template is for my personal blogs and may be too casual for some brands.  For agency clients I formalize the process a great deal more, scheduling weekly editorial calendar meetings with the blog team (which also go into the calendar), programming out dates that blog drafts are due to a central editor or blog wrangler, and even building in senior management approval time if necessary – just add in columns for those dates.
You may have other ideas and needs for your editorial calendar; I'd love for you to tell us how you're modifying this in the comments below.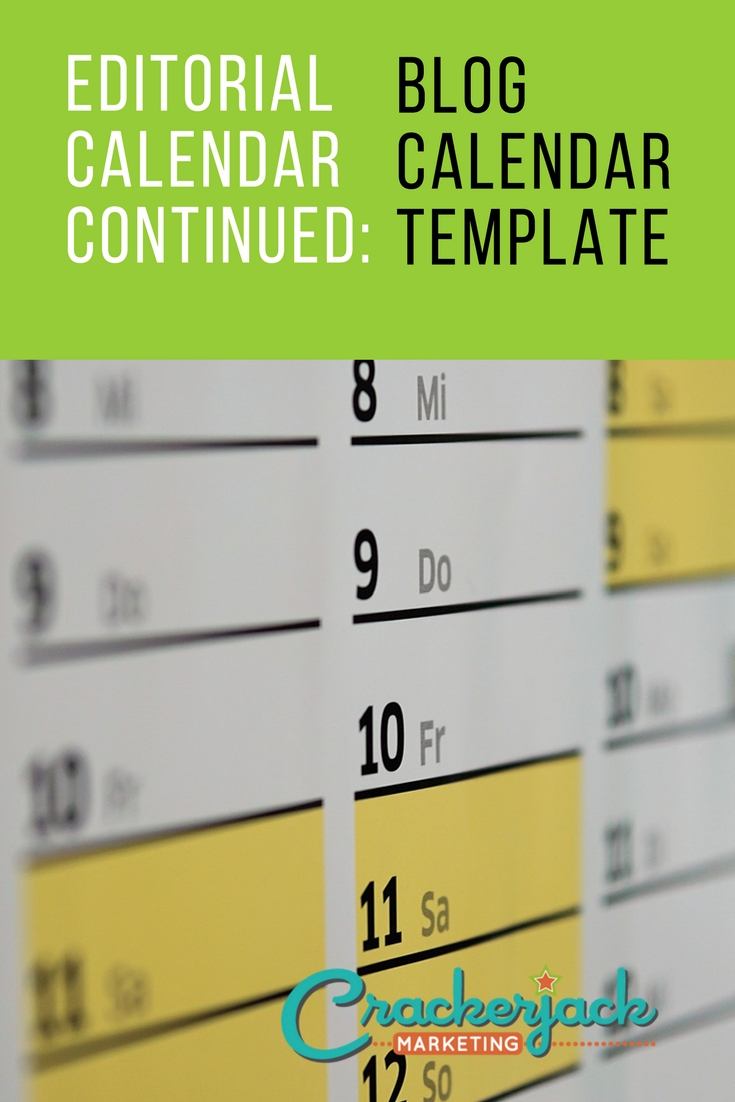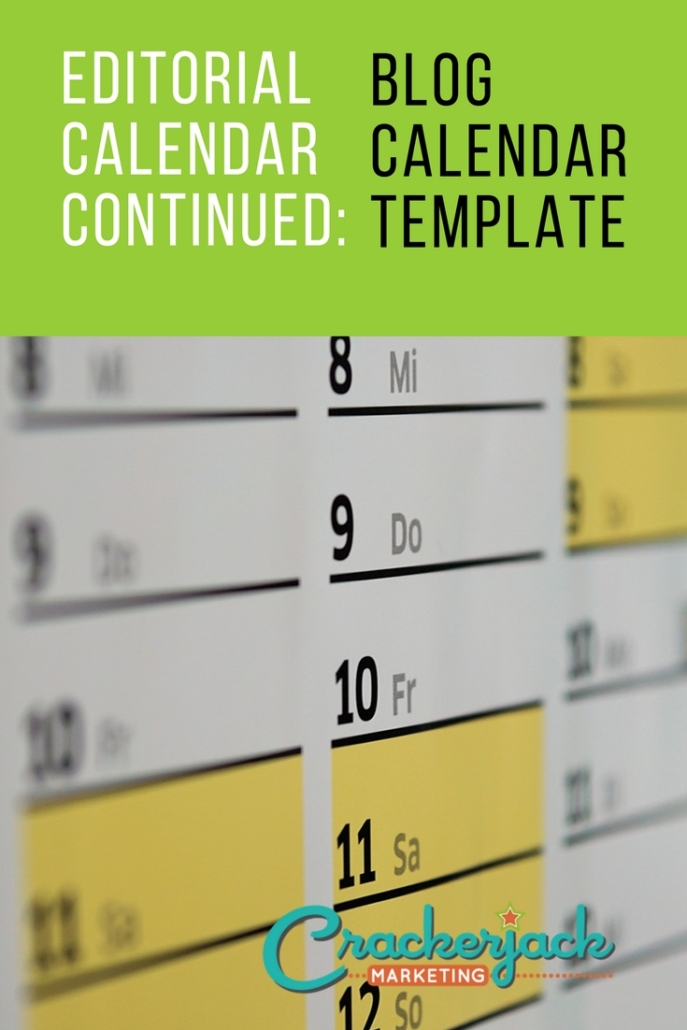 The following two tabs change content below.

Stephanie has 20 years' experience in digital media and 12 in social media and content marketing, and has been blogging personally and professionally since 2004. She loves to try new social media platforms but mostly maintains her first love, Twitter, @stephanies.

Latest posts by Stephanie Schwab (see all)
https://crackerjackmarketing.com/wp-content/uploads/2017/02/CJM-Header-Logo-New.png
0
0
Stephanie Schwab
https://crackerjackmarketing.com/wp-content/uploads/2017/02/CJM-Header-Logo-New.png
Stephanie Schwab
2010-06-18 22:46:36
2022-06-10 22:10:33
Editorial Calendar Continued: Blog Calendar Template