Influence Marketing: The Good & Bad of Following Up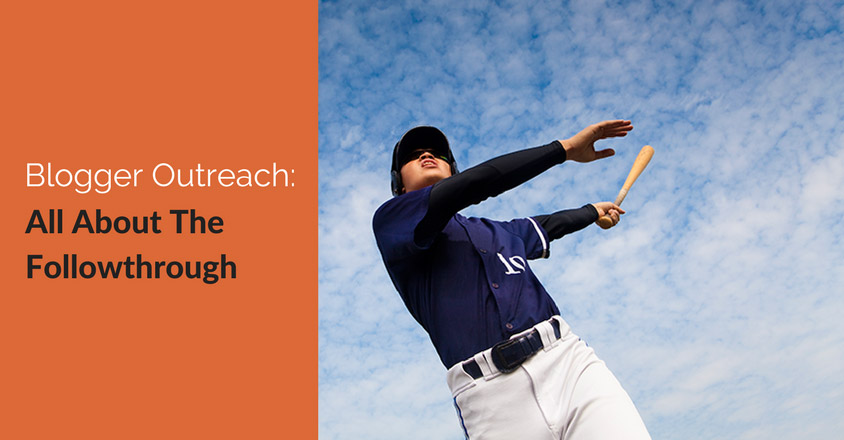 "You gotta follow through all the way." That's what my dad, and later numerous softball captains, said over and over again every time I stepped up to the plate. (Mind you, I was no star softball player – just a casual work-league player who mostly warmed the bench.) I've taken that notion to heart in business, particularly, and try to be really diligent with followthrough on projects.
Apparently, many people who do blogger outreach and influence marketing do not adhere to the same concept.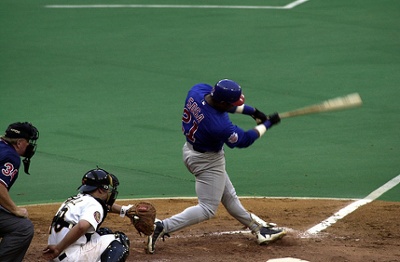 I'm shocked, absolutely shocked, at how few PR people (or social agency people doing blogger outreach, but mostly PR people) pitch bloggers, meet them at events, bring them to events, or otherwise engage with bloggers and then drop them. Cold. Like a stone. No followup, no data gathering, often not even a thank-you note. Or worse, don't even engage well to begin with.
Here's my own experience with blogger outreach/PR followthrough. I attended the BlogHer conference one year, and met some nice brand folks at a bunch of parties and expo booths. I estimate that I gave out approximately 50 business cards to brand reps. I did not expect to get anything from any of them because if you go to the website listed on my card, it's clear I'm not the kind of blogger brands want – I'm a social media pundit, not a parenting blogger or a lifestyle blogger or a food blogger. So I was surprised to have the following happen:
Two brands sent me an email thanking me for my visit with them and asking if I wanted to learn more about their products. Good work. I didn't respond, so they didn't either – perfectly fine.
One brand sent me an invite to a special "influencer-only" event that I was very interested in, so I RSVPd and they were lovely and encouraging so my family and I went. My husband, who is one of those influencers, is now in touch with that brand.
Those were examples of good follow-through. Really good, since I didn't expect either to happen, given who I am. Here's the bad:
Two brands put me on their email list. Yucch. Didn't ask, didn't opt me in, just added me. I unsubscribed from both immediately and now have a bad taste in my mouth about those brands.
Nearly six months after BlogHer, a mysterious package arrived for me via FedEx. It was from one of the big PR agencies. Beyond curious, I opened it to find a bunch of product from one of the brands who had had a presence at BlogHer. The only note: "It was a pleasure meeting you at….Please enjoy these [brand] samples enclosed."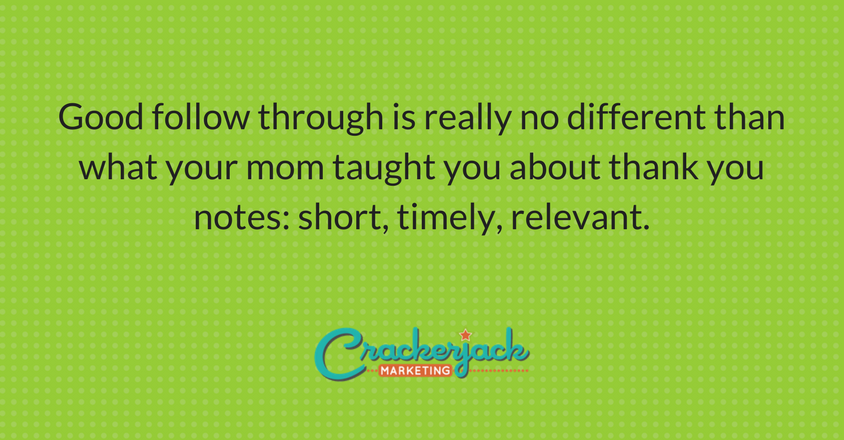 Tell me, what good is this kind of outreach follow-up, six months later, to someone who is not even in their target market, going to do for the brand? Does the brand even know that there is a (likely) coordinator-level person in the big PR firm's office, sending out product (and a fair amount of it, too) willy-nilly to anyone and everyone?
There are lots of hilarious (and sad) examples of bad PR pitches out there; my recent favorite baddie was one for Kellogg's Special K that a friend of mine received and then was blogged about by Jessica Gottlieb. Clearly PR people need to figure out how to pitch in a more personal way that doesn't demean bloggers nor assume that they will work for peanuts (or nothing).
However, little has been written about the follow up, that all important next step once you've reached out to, met or worked with a blogger. Good followthrough is really no different than what your mom taught you about thank you notes: short, timely, relevant. Ask questions: How did the campaign perform for your site and audience? Are there any site stats or metrics you can share with me? Was this a good brand experience for you and your readers? Is there anything I can do differently when I'm working with influencers in the future?
If the influencer created content for you, hosted a contest, or did something else that you can point to, thank them with a note – but also by sharing their content on your brand channels and, perhaps, in your customer email marketing efforts. And begin the dialogue about the next campaign as soon as you can, to keep the momentum going.
Build in the time and process to follow through on your next blogger pitch and you'll see how your data and metrics are more robust, your relationships blossom, and word-of-mouth on how you're one of the "good PR people" spreads. It will make your job easier, and more rewarding, in the long run. And please share your ideas for good follow up with us in the comments below.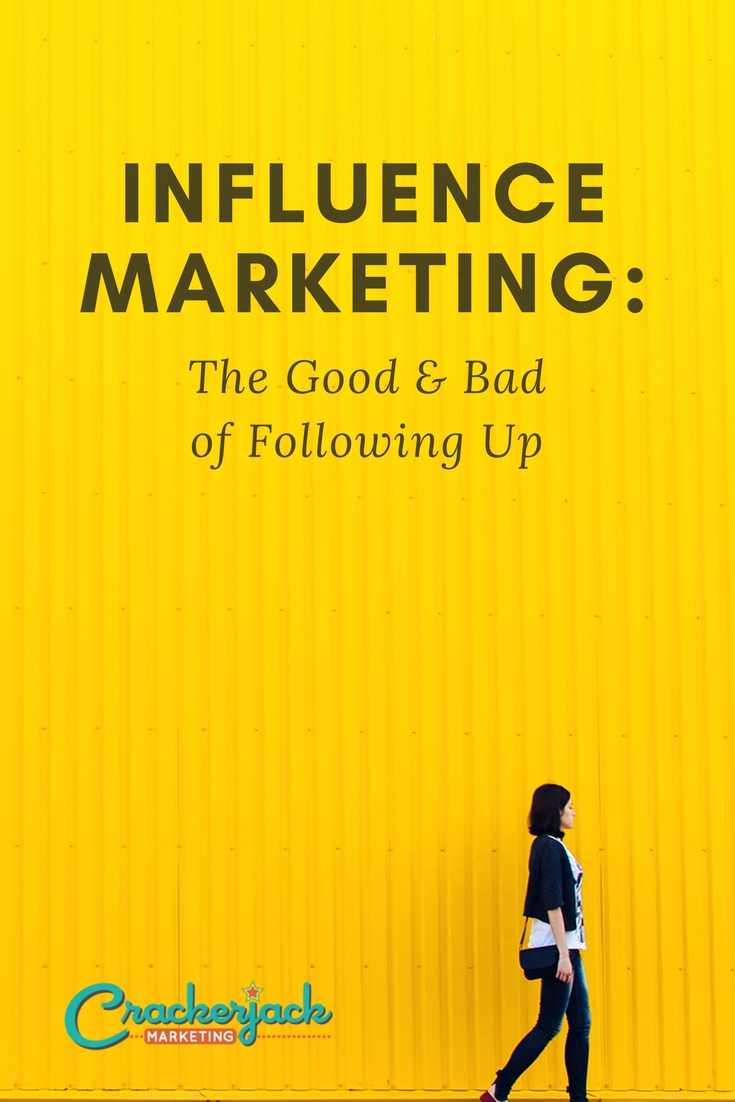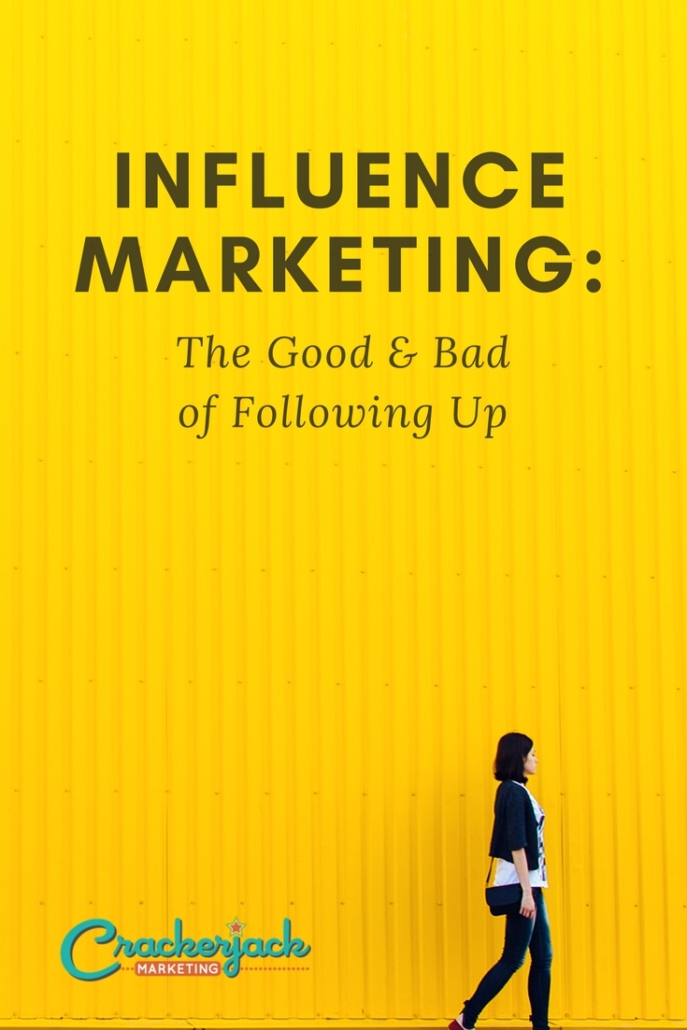 The following two tabs change content below.

Stephanie has 20 years' experience in digital media and 12 in social media and content marketing, and has been blogging personally and professionally since 2004. She loves to try new social media platforms but mostly maintains her first love, Twitter, @stephanies.

Latest posts by Stephanie Schwab (see all)
https://crackerjackmarketing.com/wp-content/uploads/2017/05/Blogger-Outreach-All-About-The-Followthrough.jpg
440
844
Stephanie Schwab
https://crackerjackmarketing.com/wp-content/uploads/2017/02/CJM-Header-Logo-New.png
Stephanie Schwab
2017-05-09 08:09:47
2022-06-10 22:06:11
Influence Marketing: The Good & Bad of Following Up