How to Advertise on SnapChat Like a Pro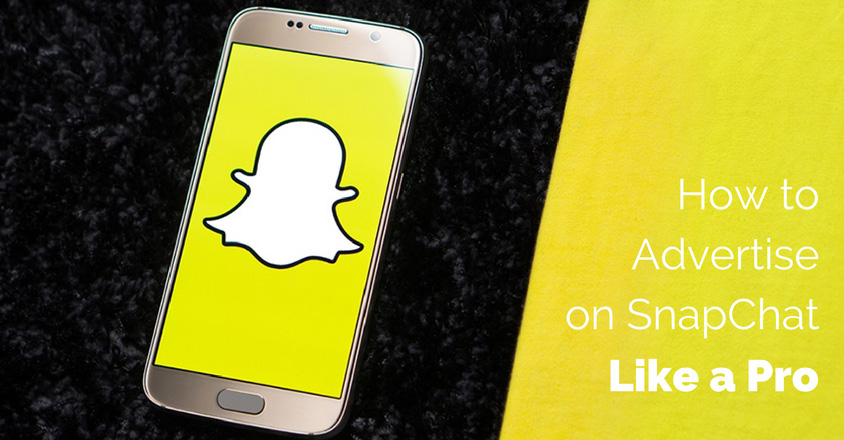 The online advertising world is getting increasingly complicated with a growing variety of platforms to choose from. Google and Facebook are the giants in the field: Google accounts for a 78% share of the total US search ad market and Facebook ads generated over $9 billion in revenue for the company in Q2 2017. However, marketers should be looking at other platforms, too, as they often have value with more precise targeting and specialized demographics.
Enter Snapchat, the online platform that sends pictures and videos to people that "self-destruct" up to 10 seconds after the recipient views them. It's a fun, easy way to send messages, and over 150 million daily users agree. Snapchat users also watch over 10 billion videos and send over 400 million snaps (pictures) every day. So what does this mean for advertisers?
Why Should You Advertise on SnapChat?
Although smaller compared to Google or Facebook Snapchat still enjoys over 150 million daily users. It earned $404 million in revenue in 2016, and that figure is expected to almost double to $770 million in 2017. With this size audience and level of ad revenue being generated, it's clear that marketers are already taking advantage of Snapchat as an effective advertising platform.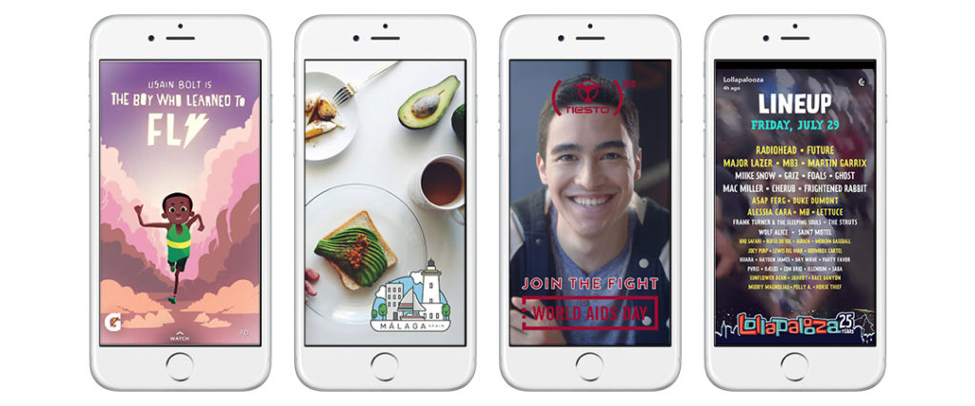 The audience for Snapchat enjoys an impressive 72% adoption rate among 14-to-24-year-olds – the most coveted demographic online for digital marketers. User engagement with the platform is also 1.6 times higher than average favorability ratings for brands.
In combination with the user base and revenue generated as listed above, the potential Snapchat has for boosting brand awareness and ROI is evident in its popularity among young adults and engagement levels.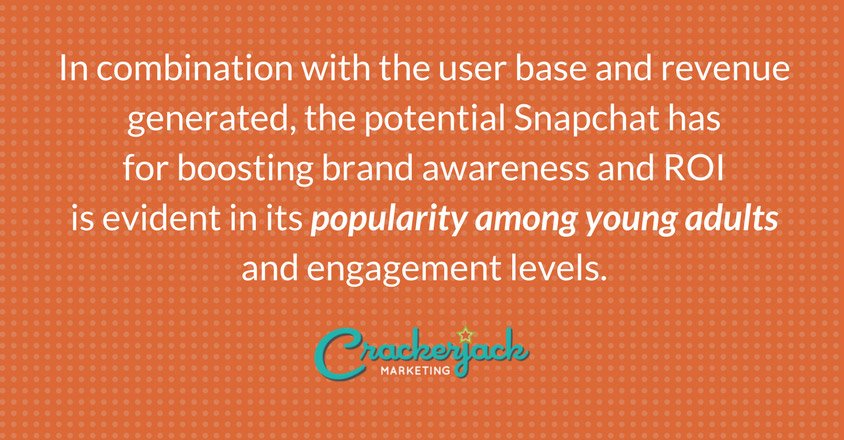 How to Advertise on Snapchat
First, some basics on how Snapchat works. You can send pictures and videos, with audio and/or captions, to contacts.
What are SnapChat Sponsored Lenses?
One feature on the platform, called Lens, lets users add a layer onto their photos – puppy ears, amusingly exaggerated faces, etc. It might sound like lighthearted fun, but that's the point! Users love to share these images and videos precisely for their entertainment, and savvy marketers know that humor is a cornerstone of online user engagement.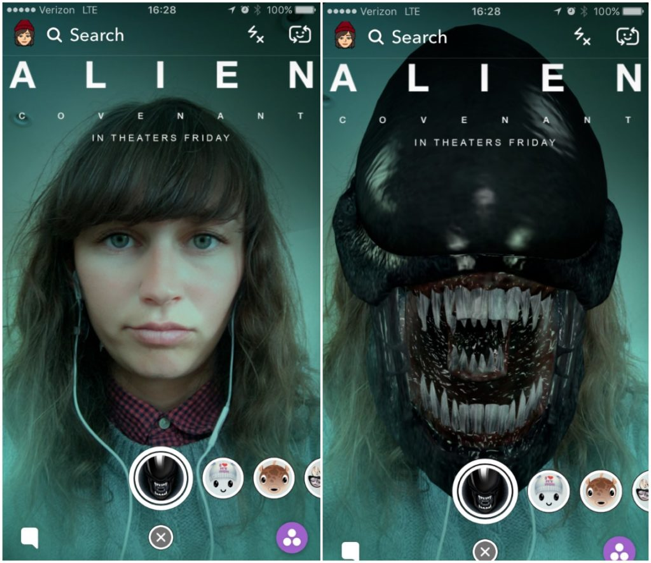 Advertisers can utilize this popular feature through Sponsored Lenses. This type of lens has the same interactive features, but usually include a branded message or design. When someone selects the lens, it offers unique branded content integrated onto the screen: logos, promotional offers, or another design.
For brands, Sponsored Lenses aren't just about the millions of people that actually interact with it. According to Elias Plishner, the EVP of digital marketing for Sony, "The real value, however, is not the number of times it's being used, but the number of people who view content created by Snapchat users with the lens, which could be in the tens of millions."
Though Sponsored Lenses can be incredibly effective, they are also costly – often exceeding $275,000. A more affordable option is Snap Ads. These are full-screen, vertical display advertisements that appear on mobile devices.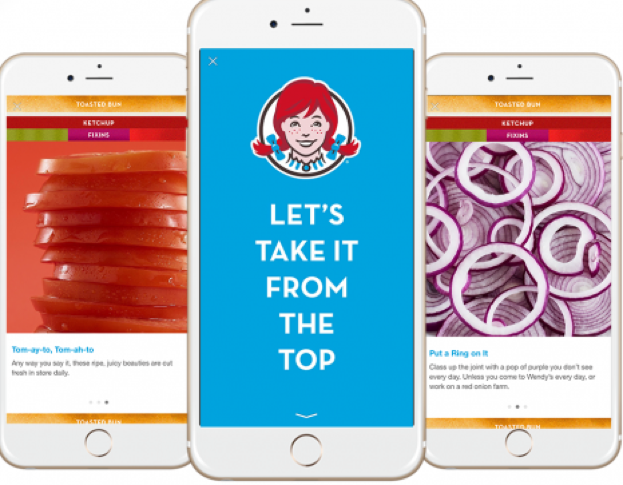 While exploring Snapchat through its Discover or Stories feature, Snap Ads appear and offer users the opportunity to interact with them for more content and information. Brands can integrate a CTA directly within the ad, and choose the format that best suits their goal: App downloads, website visits, video views, etc.
What are SnapChat Geofilters?
Finally, there are Geofilters. These are an affordable lens option that appears only within targeted physical locations. Someone attending a conference, for instance, might see ads and offers that are visible only within their hotel.
Geofilters are perfect for specific demographic targeting and can be set up for both locations and certain audiences. They are particularly effective for brick-and-mortar stores that are running a sale, as it notifies people within the area that the promotion is occurring and that it is nearby. Between 40%-60% of Snapchat users see Geofilters every day.
How You Can Use Snapchat: The Case Studies
Advertisers are flocking to the platform by finding new ways to raise brand awareness. Here are a few examples of how major brands are leveraging Snapchat marketing as a component of their ad campaigns. Keep in mind that these can be easily adapted for use by small businesses, thanks to the self-serve Snapchat Ads Manager platform:
SnapChat Advertising Case Study: Mondelez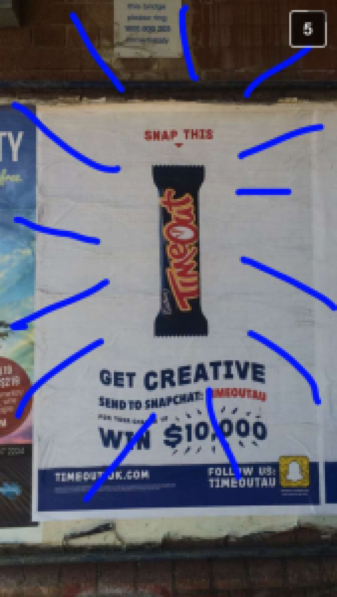 Mondelez, the company that owns a host of candy and snack brands like Toblerone and Oreos, used Snap Ads to invite users to send pictures of their products to the company's account in order to enter to win in a contest. They combined both real-life ads that included a QR code and in-platform Snap Ads. They also gave users bragging rights by featuring the snaps on their website.
This example demonstrates how to entice users to interact directly with your brand. They leveraged the QR code feature of Snap Ads to reach users both on and off the platform and tapped into the desire for users to be featured on a larger scale.
SnapChat Advertising Case Study: Starbucks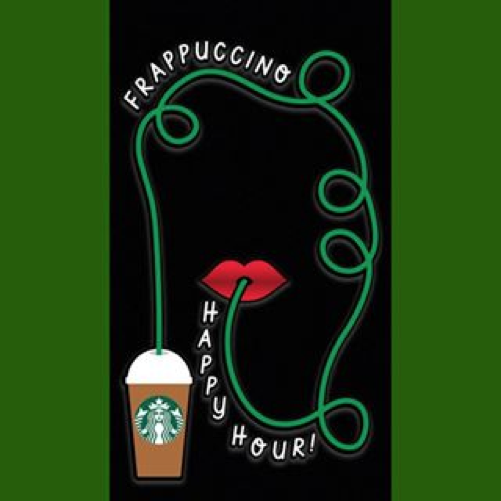 Starbucks used a Geofilter to promote their Frappuccino Happy Hour. The simple, branded design can be applied over a photo, and the black area becomes an image of you drinking the Frappuccino. It raises corporate logo awareness while promoting a specific drink special to people within the area. It only appeared for the two hours each day that the promotion ran, which ended up increasing purchase intent as users found themselves urgently seeking out the incentive.
SnapChat Advertising Case Study: AT&T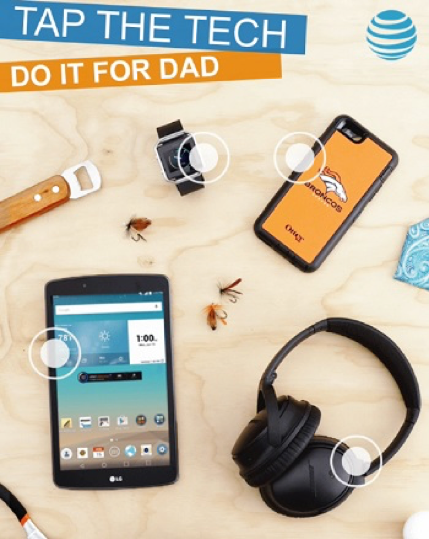 AT&T used the Snap Ads feature for a Father's Day campaign. Users tapped parts of the advertisement to learn more about products.
The ad earned 4 million impressions and enjoyed a 14% engagement rate over the course of the campaign. Not too shabby, considering 3%-4% is generally deemed a good engagement rate. Smaller companies can use the same idea by launching a Snapchat ad that serves to provide users with more information regarding a product or service in an interactive fashion.
Explore Your Social Media Advertising Options
With the connected world of social media, marketers need to keep on top of new ways to reach their customers that will make them stand out. One of the best ways to do so is to take advantage of new platforms that appeal to a different demographic and have different features than Google or Facebook. Once you understand how to market on a different outlet, you'll have access to a new audience and more opportunities for increasing ROI and brand awareness.
When it comes to reaching an engaged mobile audience, Snapchat is the right choice. With its solid growth in a key demographic and proven results in enhancing brand engagement and purchase intent, smart marketers are getting on board with it.
Ilan Nassimi is the founder of Taktical Digital in NYC, an award winning digital marketing agency specializing in paid social advertising, managing millions of dollars per month in media. Taktical has helped grow world-class startups such as WeWork, Elite Daily, Splash, Artsy and Fueled;

Ilan is widely regarded as a leading expert in SEO, SEM, Social Media and Conversion optimization. He has consulted for major brands and startups alike for years such as Standard & Poors, Barney's, and Chase.

Ilan has been featured in Forbes, Inc.com, TheNextWeb and HuffingtonPost and has spoken at several digital marketing conferences from New York to Las Vegas.
https://crackerjackmarketing.com/wp-content/uploads/2017/10/how-to-advertise-on-snapchat.jpg
440
844
Guest author Ilan Nassimi
https://crackerjackmarketing.com/wp-content/uploads/2017/02/CJM-Header-Logo-New.png
Guest author Ilan Nassimi
2017-10-19 08:00:19
2022-06-10 22:06:07
How to Advertise on SnapChat Like a Pro