Social Media Tools for Collaboration, Organization and Creation We Love (and Use!)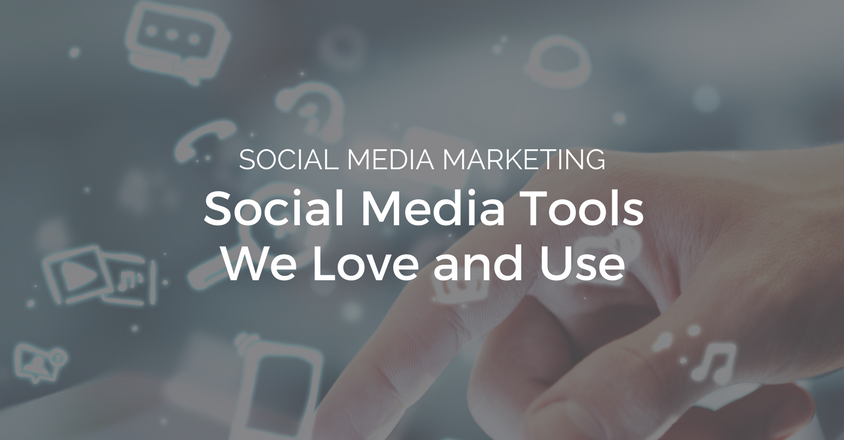 This post was co-authored by Christina Strickland, Cori Jacobs, and Lesley Lloyd.
If you've attended any of our social media training sessions, you've heard us compare growing social media presences to building a house before. We've talked about how you need to build a solid foundation and then the right layers on top of that.
Because construction analogies come easily to me, let's just roll with, shall we?
If you're going to build a house, you're going to need a hammer, right? And, not just a hammer but a screwdriver, a wrench, and some excellent power tools. The same goes for social media.
Sure, we make social media management and content creation look easy, just like those guys doing home remodels on HGTV. But, like those home flippers, we have a great team of talented, dedicated people and an arsenal of tools we use every day.
There are so many social media tools available now that it can be hard to filter through them all to find just what you are looking for. It was equally difficult to determine which tools we should include on our list. To narrow it down, each of these had to meet certain key criteria:
The tools must be used by at least two-thirds of the team here at Crackerjack Marketing. In most cases, the tools listed below are used by every team member.
The tool must be used every day by said two-thirds of the team members.
The tool must have a free version, even if limited, for you to "try before you buy." For most of these, we have the paid version because we felt the cost (usually minimal) is well justified.
7 Social Media Tools for Collaboration, Creation and Organization We Love
We didn't want just to give you a boring list of the tools. We also want to share the reasons why these tools are so valuable to our organization by giving you the perspective of several team members, with varying degrees of responsibilities.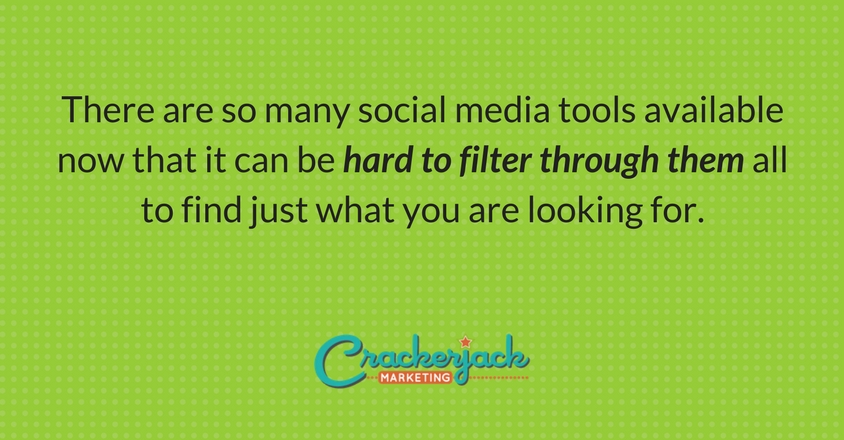 Contributing team members include Christina Strickland (that's me!), Vice President; Cori Jacobs, Client Services Specialist and Lesley Lloyd, Community Manager.
Ready? Let's dig in!
Favorite Social Media Tool #1: Slack
Collaboration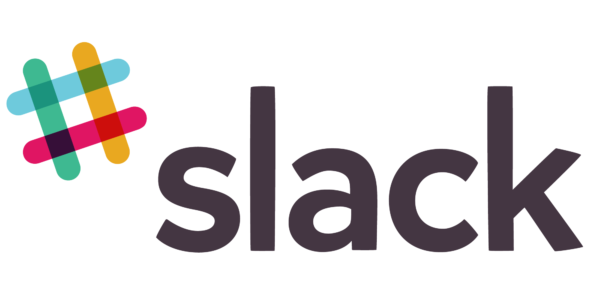 At first glance, Slack appears to be a simple messaging platform. While it is simple to use, it's more than just a means of communication. Slack has a broad range of tools and integrations. Everything from uploading documents to sharing funny gifs. Best of all, it has the desktop and mobile apps, so you're never far from your team.
What we love about Slack:
Cori: I'm showing my age here, but as someone from the internet 'old school' I like the familiar feel of Slack — it reminds me a lot of chatting over IRC (Internet Relay Chat). If you never used IRC, think of it as the predecessor to AOL chatrooms or instant desktop chat clients such as MSN Messenger or ICQ. The 'channel' model worked then, and it's a great tool now for keeping multiple topic threads separated so not every single discussion is in one massive, impossible-to-track conversation. I also like the ability to turn notifications off and on per-channel so that I can keep on top of the main topics.
Lesley: I like using the channels. They're helpful in keeping track of updates going on in social media. We use a Snapchat channel where we add articles on tips, tricks, news, etc. about the network. It's a great reference tool for writing a blog post on Snapchat, or if we wanted to implement some of the things we learned into our Snapchat profiles. Slack also offers a reminder option for when you can't look at an article the moment a colleague shares it. You can also pin an item in a channel, so it shows up at the top. Additionally, if you think it would apply to another channel, you can copy it to multiple places. Slack has many shareable and versatile options within the channels. You can designate them to social networks or clients or tools that you're using. It's the communication tool to rule all!
Christina: While there is just so much to love about Slack, one of my favorite features is also one of the most basic ones … the search function! If your organization is anything like ours, communication is happening at the speed of light! We love bouncing ideas around and getting inspired. Sometimes, though, we forget what we finally decided on or vaguely remember that someone had a good idea at some point. With the search function, you can enter a word and search your conversation archives. You can narrow it down to a particular channel or conversation or search all of your Slack history. This feature has significantly reduced the number of redundant conversations ("Hey, what did you say about that Instagram campaign, again? I don't remember.")
Organization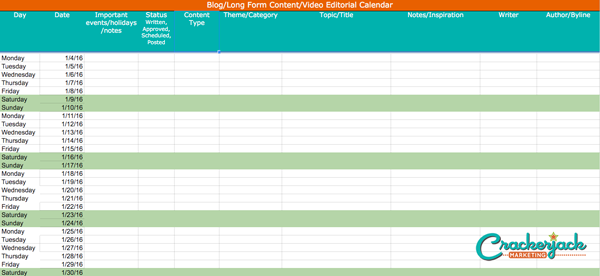 We searched the Internet for a long, long time, looking for the right editorial calendar to use for our clients. After an extensive review and so many different tools and templates, we created our own, designed to help keep all of our clients' content organized and on track.
What we love about the Editorial Calendar:
Cori: The key benefit of our Editorial Calendar for me is its ability to cover each social platform separately in as much detail as is useful a day-to-day community manager, as well as allowing them to maintain a higher-level overview which isn't bogged down with details. The Overview vs. Detail layout is very useful for situations when sharing a calendar with clients. Most of the teams who we coordinate with aren't likely to want to dig into a calendar filled with reams of individual tweets, but the high-level view allows them to keep on top of what's happening across all their social platforms.
Lesley: If you like to plan, the editorial calendar is the place to be. It's easy to navigate and easy to read when it gets full of all of your ideas and posts. Who's going to remember what you posted in August of 2014? The editorial calendar will! When working with multiple clients and multiple promotions and channels, creating a calendar for each helps to keep you from getting your paths crossed.
Christina: Aside from being easy to use and understand, I love having an archive, or record, of all the work we have planned and have completed in one place. Don't forget that you don't "own" your social channels, so it's always a good idea to have a backup somewhere.
Favorite Social Media Tool #3: Canva
Creation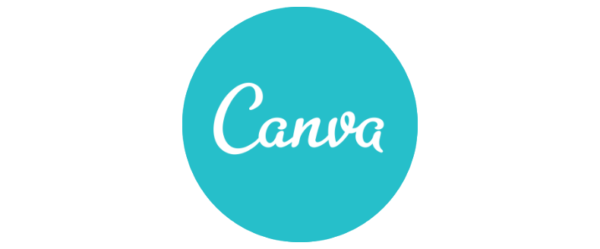 If you haven't heard about Canva yet, stop what you are doing, right now, and go check it out. Canva is a graphic design tool for non-graphic designers. You can start with a template or make your own.
What we love about Canva:
Cori: OK – I'm going to sound like an ad right now, but Canva is genuinely a lifesaver, and has upped my game, graphics-wise. I'm no designer and can barely crop an image in Photoshop, but when a client sends a blog post at 6 pm to be posted the next day, Canva lets me create a compelling feature image in just a few minutes. If I need size variations optimized for multiple social channels, I can also do that with just a couple of clicks with Canva's "pro" version.
Lesley: The sharing capabilities, especially. The folders and streams make it easy to organize different images for various social channels as well as categories (holidays, contests, promotions, products, etc.). The images don't have to be emailed or uploaded to your team; they're saved right in Canva so access and edits can be made by any team member or client if you so choose. Canva also has a variety of designs with sizing and fonts, so it fits everything you're looking for in an easy-to-use design tool. It makes graphic-creation quick, easy, and professional.
Christina: There is so much to love about Canva. One of my favorite features comes with the Canva for Work subscription (paid). With the paid version, you can create a stored "Brand Kit," which includes your company colors, logo, fonts and templates as default. No more looking up color codes or using an online color picker!
Favorite Social Media Tool #4: DropBox
Organization

DropBox is a hugely popular cloud storage option, and for good reason. It's easy to use and makes your documents accessible from anywhere.
What we love about DropBox
Cori: Like many other cloud tools, Dropbox is invaluable as a shared repository. It's perfect for storing and sharing all types of files, large or small — anything from spreadsheets to photos to huge video files (though you need a Pro account if your stored/shared files go past the 2GB limit). If you don't need to collaborate on a file and simply need a place to store and control access to them, Dropbox is perfect. Also, the search function works great, which is good news for someone with thousands of files stored who often needs to be able to put their hands on them quickly.
Lesley: Dropbox is more than a storage tool for documents. Your photos, links, and events fit there, too! When you're working with multiple clients, you're going to need space, and you might want to share what you're working on with them. Dropbox has both! It also has a Paper option like a virtual workspace that you can share with the team with tasks and assignments.
Christina: Selective sync is such a big plus for me! As Cori mentioned, our clients often have enormous video files. The Selective Sync option allows you to control which files sync with your desktop or laptop. Since I work on a MacBook Pro, I prefer not to have my precious hard drive space consumed by video files, and I'll rarely access. Another on of their great features are file and folder sharing options. You can invite people to view all of the files in a particular folder or create a link to a single file. Even better, you can set an expiration date on that link for sensitive information.
Favorite Social Media Tool #5: Social Report
Organization

Social Report claims that it is "an all-in-one social media management platform with all the features you need in one concise package." While none of us would agree that it's the "all-in-one management platform" we do love the reporting capabilities.
What we love about Social Report
Cori: Social Report is a one-stop shop for most of the stats I need day-to-day — super convenient! It tracks an impressive range of platforms and offers breakdowns which aren't always available through a platform's 'native' analytics. Having a single site for so many platforms means I can save a lot of time when putting together client reports. The Social Report team is constantly looking to improve and add new features, too — for example; they recently added the ability to automatically schedule 'evergreen' posts on a rotating basis.
Lesley: I use Social Report every day. Whether for scheduling posts or reporting weekly or monthly, Social Report does it all. Although no reporting website is perfect, and Social Report is constantly updating, it's my trusty side-kick. I save so much time using it for scheduling 3rd party and evergreen posts (which is a new feature!). Social Report is relatively reliable as well! Minus the occasional error, it's given me accurate information time and time again.
Christina: Like Cori, I love that I only need to go to one place to find the data we need on a day-to-day basis and for most of our monthly reporting needs. From a team management perspective, I like that we can control who has access to which accounts. I can give access to multiple accounts to our community managers or limit access to a single account for our clients. While "great customer service" isn't a feature of the tool, I have to say that the support team at Social Report is amazing!
Favorite Social Media Tool #6: Grum.co
Organization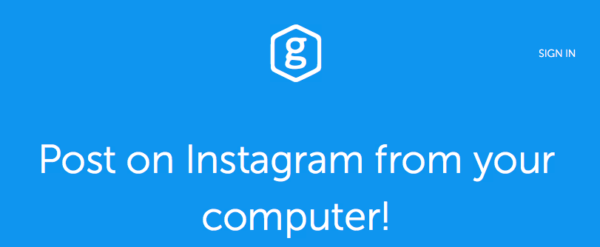 Grum.co is the unicorn of social media scheduling tools, allowing you to schedule Instagram posts in advance, from your computer! While it's not packed with a ton of features, what is has it worth its weight in gold!
What we love about Grum.co
Cori: The simple interface and the convenience of posting to Instagram from my desktop make Grum a winner. Other Instagram solutions we've tried only remind you to post from mobile, but Grum allows you to 'set it and forget it,' which is perfect for any busy social manager
Lesley: You can't beat the simplicity of Grum. Every feature is easy to use and understand. It also offers an archive of past posts for users and clients to reference (but don't depend on that instead of an editorial calendar!). Instagram hasn't paved the way for a convenient scheduling tool yet, until now!
Christina: It's great to be able to log in and make sure that our community managers have the right content lined up. I also love that I can switch between clients without having to log in and out again. Sure, it's a "little luxury" but one that I can't live without, now that I have it!
Favorite Social Media Tool #7: Grammarly
Creation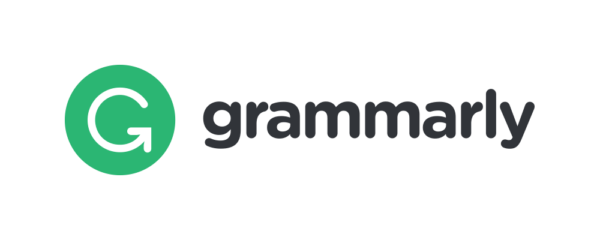 While we use professional copywriters and editors as much as we can, because social media is about responding and reacting in real time there are occasions when using a professional editor isn't practical due to time constraints. In these situations, we always, always, always, have more than one team member review what has been written but then we also always, always, always, run it through Grammarly, to make sure we don't have any participles dangling or commas misplaced.
What we love about Grammarly
Cori: Should it be "that" or "which"? Is it "who" or "whom"? Grammarly is a great tool for those times when I'm struggling to deliver my message in the clearest possible way. I never want to embarrass myself (or worse, a client!) with awkward wording or grammar, so Grammarly can really be that 'second pair of eyes' I need on a document before pushing it live for the world to see!
Lesley: I never gave grammar in social media a second-look before Grammarly. Correct punctuation, verbs, and tense are often overlooked on social channels because of character amount, laziness, you name it! However, there's nothing more important to you or your client than appropriate grammar and Grammarly is the perfect tool to ensure your posts are correct. Grammarly catches and fixes many mistakes, but use your discretion!
Christina: The critical and advanced (premium version) grammar checker are excellent features, I'm a huge fan of the vocabulary enhancement suggestions and the style features. I never knew I wrote in such a passive style before!
While we think these tools are just the bee's knees, remember that there isn't a single tool that's going to replace an effective strategy, great content and a great team.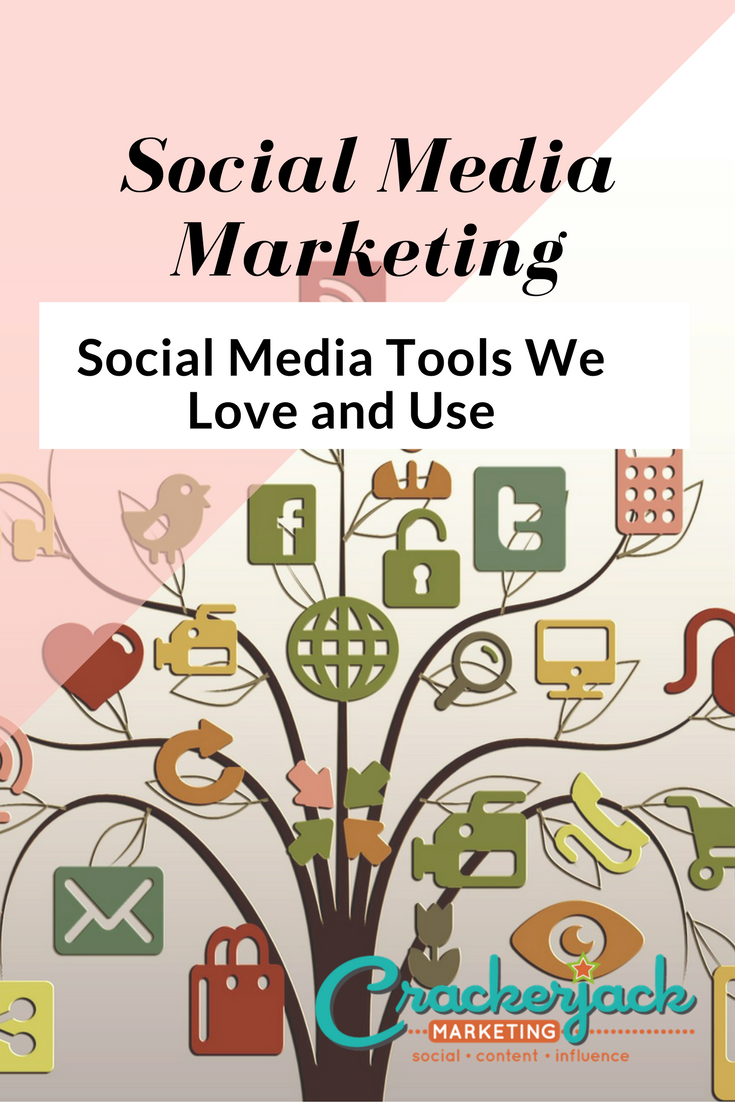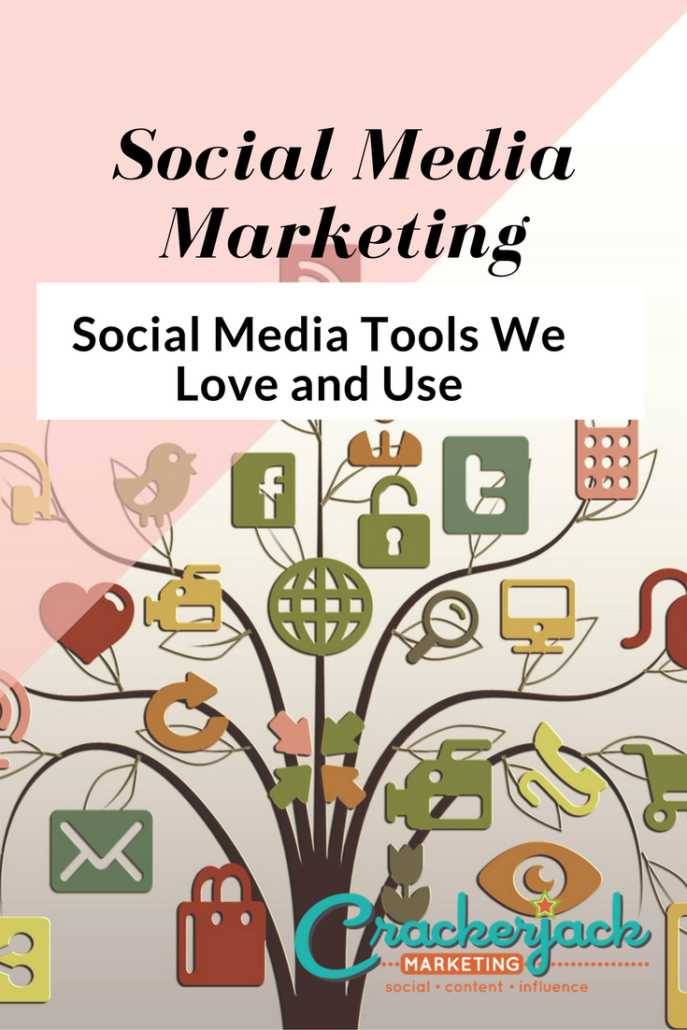 The following two tabs change content below.
Latest posts by Crackerjack Marketing (see all)
https://crackerjackmarketing.com/wp-content/uploads/2017/02/social-media-tools-we-love-and-use.png
440
844
Crackerjack Marketing
https://crackerjackmarketing.com/wp-content/uploads/2017/02/CJM-Header-Logo-New.png
Crackerjack Marketing
2017-02-16 08:00:44
2022-06-10 22:07:03
Social Media Tools for Collaboration, Organization and Creation We Love (and Use!)