In Tuesday's post I described how to go about setting up a steady stream of tweets to populate your Twitter account.  The post covered the mechanics of the process, so now you might be wondering where to get all that content from.  Here are a few ideas for how to curate outside sources to provide relevant, timely content to your followers.
Develop some "go-to" sources for content
I gather most of my outside content from two places:
My RSS reader.  When I'm doing my daily reading I take the most interesting articles that I think will be pertinent to my audience and I plug them into HootSuite (my Twitter platform of choice) for future posting.
Daily email newsletters.  I subscribe to about ten, most of which I read regularly.  Some, like SmartBrief on Social Media, aggregate key content from around the web, making it one of my daily must-reads.  If you do tweet out content that you get from other aggregators, it's nice to indicate your source with a "HT"(hat tip) or "via" acknowledging that source as well as the original author.
For some people the emails are "old school" and redundant with the RSS reader, but I still like 'em.
When I select articles I almost always write an intro for them myself; it's extremely rare that I only include the article title in my tweet (it would likely indicate I was tweeting on the run from my iPhone and felt something was so great I just had to get it out there).  So my tweet of an article from Christopher Penn looks like this:

Actively promote others and ReTweet often
Whether you're actually RTing or saying an article is "from" or "via" someone (see below), sending out their content is promoting them.  I primarily tweet out info from people I know, I want to know, and those I admire and believe in.  I closely watch their blogs and Twitter streams and draw on my "favorites" often for my curated Twitter content.  I'll send RTs on the fly throughout the day from my iPhone or from TweetDeck, and setup more "formal" scheduled tweets via HootSuite.
Include your own content, too
That's at least partly why you're here, right?  To have a dialogue about what you're doing with your friends and followers.  So include your own content – your blog post, a note on your Facebook page, a link to your video on YouTube.  And don't forget to tweet out links to your own media placements or speaking engagements.
Engage with and use your followers for good
Twitter is a fantastic medium for getting get quick answers or developing deeper polling data (likely unscientific, but good enough for most purposes).  You can schedule questions or polls right into your Twitter calendar.  Twtpoll is one app that makes polling easy.
Be sure to attribute your sources
For all of the sources from which you curate content, it's always nice to acknowledge the author.  I typically use "from @source" or mention inline the actual author or website, and "via @source" for the place where I found the article.  So my tweet of an article by Dennis Yu that I found on SmartBrief for Social Media will look like this:
I've followed lots of people who tweet out articles without attribution, and I often assume that it's their own content and am then surprised when I'm taken to another blog or article that has nothing to do with them.  It's not entirely dishonest – there are no laws on tweeting – but I feel it's just not right.  Give credit where credit is due, and make it easy for your readers to know that you're curating content vs. including only your own content.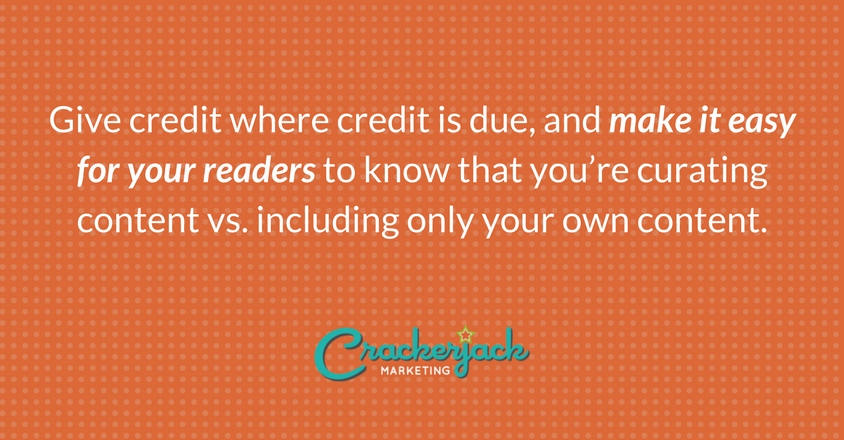 Save all your content!
Now that you've curated this amazing set of content for your followers, be sure that you've saved it for your archives too.  You want to be able to reference back to these articles in the future.
First of all, make sure that you're bookmarking all of your tweets in your Delicious.com account.  I use Packrati.us, they have amazing customer service (I had a problem with an old account) and it's really simple to use – you just connect it to your Twitter and Delicious accounts and it automatically feeds your tweets into Delicious.
Next, be sure to regularly backup your Twitter stream.  I use Backupify for this and archive an Excel file of my tweets every so often; I have my entire @stephanies Twitter history going back to 2007 on my external harddrive and in my cloud server for safekeeping.  It's pretty cool to look back to see what I was tweeting in those very early days, and also to see how my personal twitterstream topics changed as I got pregnant and had my son.  There are a number of other services too; look at OneForty.com for more.
Hopefully this has sparked some ideas for you; I'd love to hear how you're curating Twitter content too, so I can add it to my own content planning.
The following two tabs change content below.

Stephanie has 20 years' experience in digital media and 12 in social media and content marketing, and has been blogging personally and professionally since 2004. She loves to try new social media platforms but mostly maintains her first love, Twitter, @stephanies.

Latest posts by Stephanie Schwab (see all)
https://crackerjackmarketing.com/wp-content/uploads/2017/02/CJM-Header-Logo-New.png
0
0
Stephanie Schwab
https://crackerjackmarketing.com/wp-content/uploads/2017/02/CJM-Header-Logo-New.png
Stephanie Schwab
2010-06-24 03:56:31
2018-01-29 07:33:52
Editorial Calendar Continued: Curating Content for Twitter