Editorial Calendar Continued: 9 Ways to Program Out Blog Content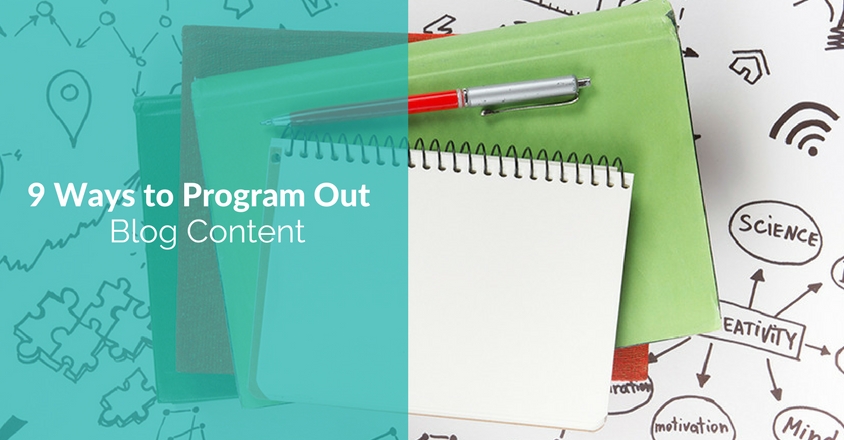 Hopefully now you've got a structure for your editorial calendar.  But it's empty.  How do you determine what content to include in your blog?
The first place to start is to listen.  I've said before that I'm a huge proponent of social media listening, as that's where you're going to find the topics that are of interest to your audience.  You'll want to also understand how you're telling your brand story – what's your voice, who's speaking on your behalf.
So assuming that you know who your audience is, you know what you want your voice to be, and you know who's writing (if it's a multi-author blog), let's look at some of the various ways to flesh out your editorial calendar for your blog.  These may not all be appropriate for you, just pick and choose to get the right balance of content for your brand.
Cover regular topics
Program out your calendar to reflect your company's products or services, to ensure that you're providing content that covers your most important products or speaking to the different types of people in your audience.  The PurinaCare blog does this well, ensuring that they post about cats as well as dogs, and also including content that's relevant to veterinarians who may be selling their product.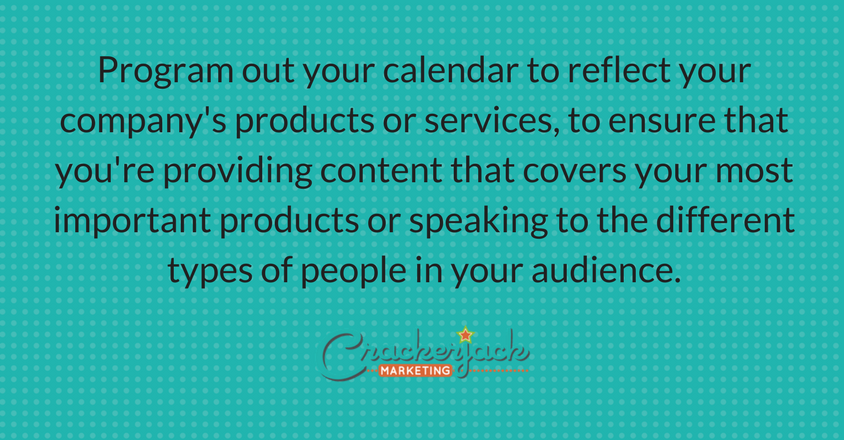 Use themes or memes
Choose to designate certain days for various themes, whether serious or whimsical.  Graco Baby, a former client, does this with their Bundles Bumps and Babies series, which runs each Wednesday and always includes a wonderful photo.  Many blogs adhere to broader memes like  "Wordless Wednesdays" where they only run photos or "Friday Fun" where they go off-topic a bit and post something amusing.
Create a series of posts
Develop running series, like this post, which develop a topic over time.  My editorial calendar series is currently programmed out to include a total of four posts, but I'm leaving the door open for more.
Interview people
Create a series of interview posts featuring relevant interviewees for your topic.  Rubbermaid's blog includes regular Q&As and tips from professional organizers – exactly the kinds of people Rubbermaid consumers want to hear from.  Interviewing people is sometimes easier for the interviewee than asking them to guest blog….
Invite guest bloggers
Get guest bloggers to provide content for you.  Tamar Weinberg uses guest bloggers to enhance the content on Techipedia and to give herself a writing break now and then.  Tamar also believes that giving guest bloggers a voice on her blog gives them a way to be discovered by her community.
Stalk celebrities (sort of)
A popular blog meme for product blogs is to capture news items about celebrities using the product. Bigelow Tea recently wrote about Michelle Obama's high-profile White House teas and runs celebrity stories as an occasional series.  You can find these items in celeb magazines or online.
Promote your own media
Did you get a great media hit in print, in a blog, or on television? Write it up, humbly, for your blog. Your readers may not have seen it, and someone else's endorsement of your brand is always more valuable than your own.
Promote your products
Running contests, promotions and giveways will increase engagement on your blog and bring new readers in through viral pass-along, if the offers are valuable.  Be sure to include easy ways that people can share your promotional content – buttons to tweet out the post and post it to Facebook, and an "email this" link to quickly send to friends by email.  Graco Baby takes the concept even further with their "Get One, Give One" program, allowing the contest winner to also give the same item to a mom or organization in need, establishing brand goodwill all around.
Build around your authors
If you have multiple authors for your blog, that may be a natural way to break down the content – assign "columns" or focus areas to each person based on their interest or passion, and program out the calendar from there.
What are the other ways you generate content to fill your editorial calendar?  What other blog memes could new (or established) bloggers consider following?  Please help flesh out this topic by posting your comments below.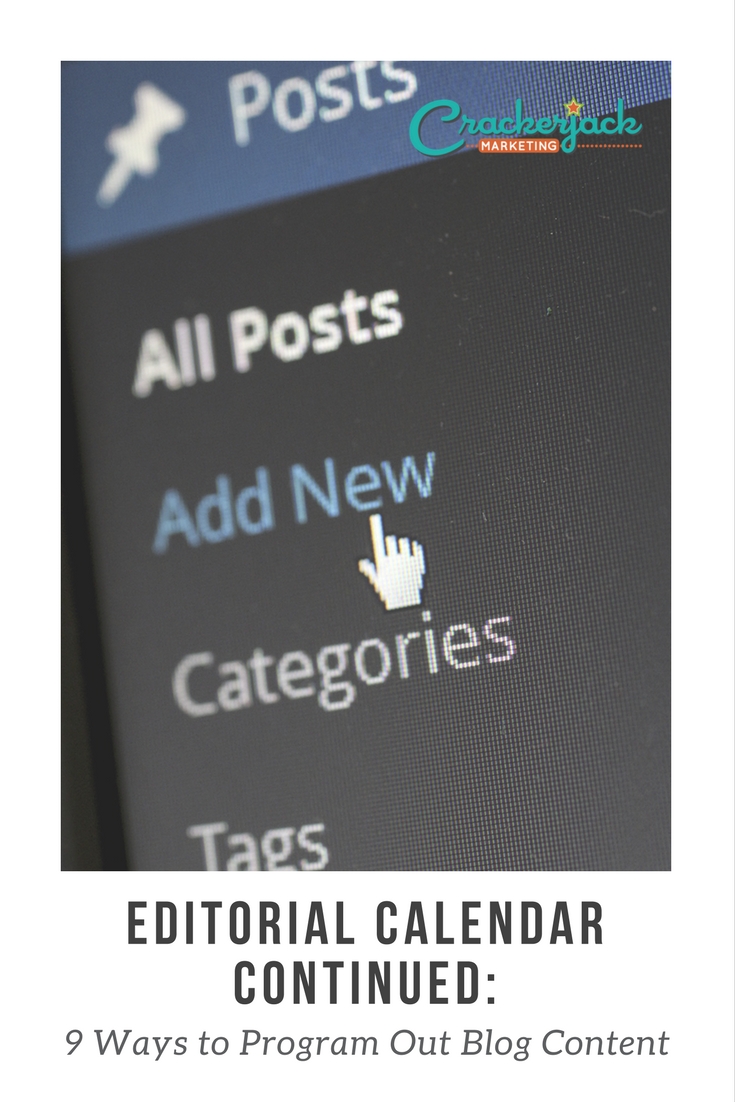 The following two tabs change content below.

Stephanie has 20 years' experience in digital media and 12 in social media and content marketing, and has been blogging personally and professionally since 2004. She loves to try new social media platforms but mostly maintains her first love, Twitter, @stephanies.

Latest posts by Stephanie Schwab (see all)
https://crackerjackmarketing.com/wp-content/uploads/2017/02/CJM-Header-Logo-New.png
0
0
Stephanie Schwab
https://crackerjackmarketing.com/wp-content/uploads/2017/02/CJM-Header-Logo-New.png
Stephanie Schwab
2010-06-16 22:46:28
2022-06-10 22:10:33
Editorial Calendar Continued: 9 Ways to Program Out Blog Content