Top Social Media Predictions for 2023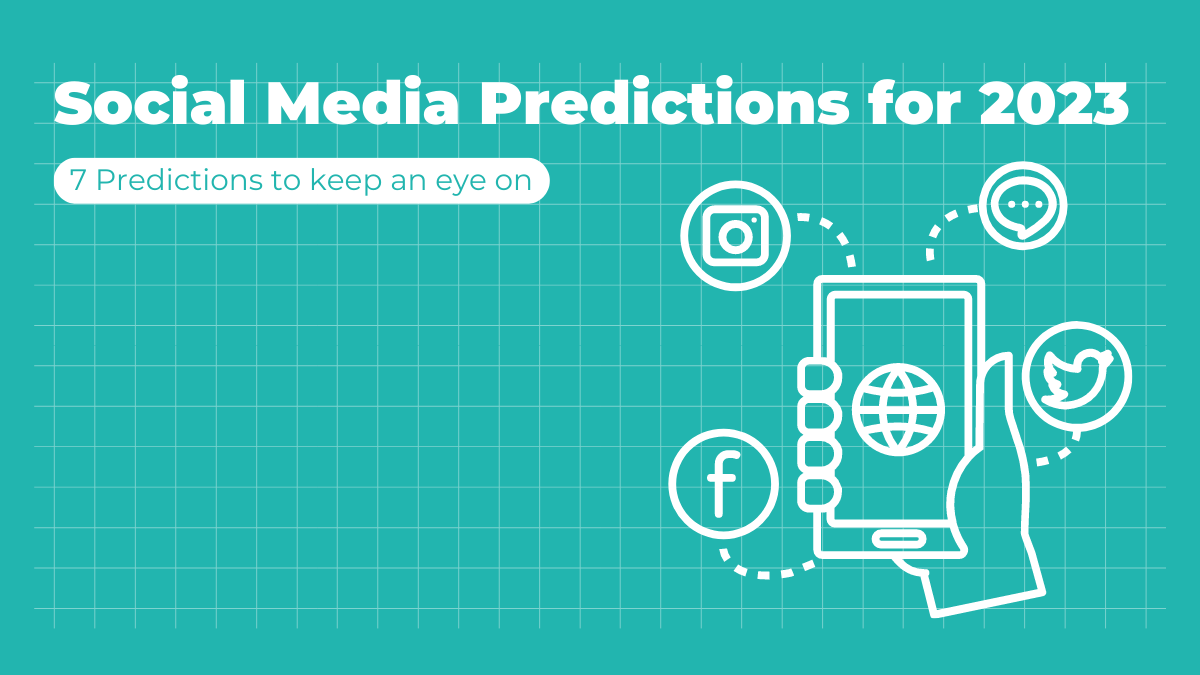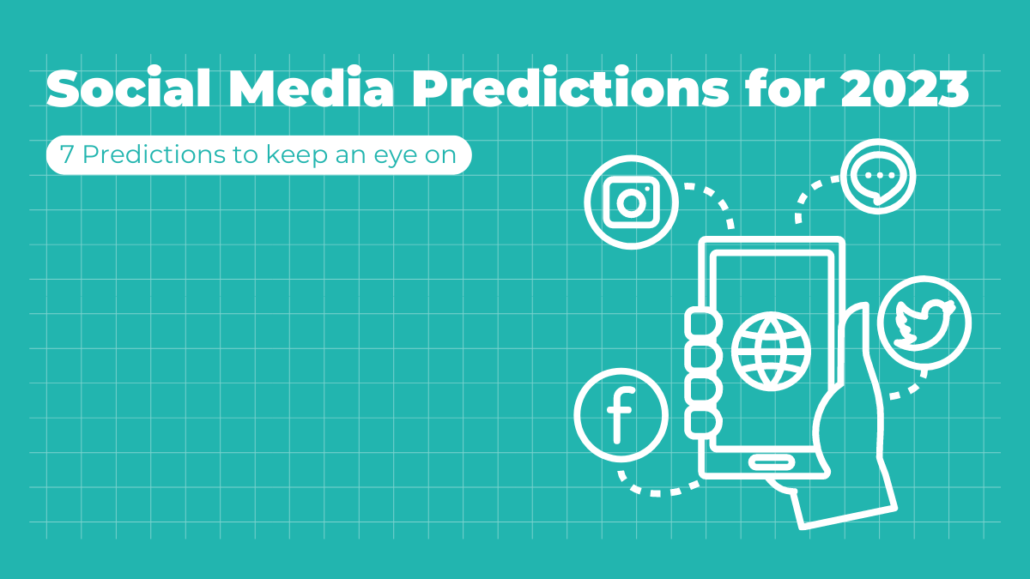 Whether you're a solopreneur or a CEO of a small to midsize company, you know just how important it is to incorporate social media into your business and marketing strategies. As we have now entered the second week of January, there are a few key social media predictions to pay attention to this year.
Let's take a look at these top predictions for 2023.
[When you're done reading this article, make sure to pop over to this Crackerjack Marketing Instagram post to get a few platform-specific ideas for this year.]
Social Media Will Continue to Stay Strong
First, and most importantly, experts advise to "just keep doing it" in this new year of business. Or, if you haven't really developed a social media presence, now is the time to get started!
The latest data indicates that over 4.26 billion people were using social media worldwide in 2021. That number is expected to reach six billion by 2027—which isn't that far away when you think about it. Ensuring you have a strong social media strategy in place now means you can capitalize on those active users, no matter which industry you're in.
New Social Media Platforms Expected to Garner Popularity
We know the "biggies" in social media: Instagram, Facebook, TikTok, YouTube, Twitter, Snapchat, Pinterest. But, that's not to say you can't explore other social media platforms.
BeReal produced some buzz in 2022 and has seen massive growth over the past months. In the early days of January 2023, the app had over 10 million daily users. This is an unbelievable increase from April 2022, when the app had 2.93 million active daily users. And, as of October 2022, the BeReal app had been installed over 73 million times (globally).
The BeReal app is particularly popular among Generation Z, but other generations are using it as well. Anecdotally, one of my favorite podcast hosts, who is a GenXer, adopted the BeReal app after learning about it from his daughter.
Another consideration was the "mass exodus" of many Twitter users in 2022. Business Insider reports that Twitter could lose 32 million users over the course of the next two years. So, as a business owner, you may consider turning to a new social media platform in place of Twitter or focusing your efforts on the platforms that better serve your brand values and marketing goals.
If you have the bandwidth to explore newer/different platforms, there's no harm in experimenting. You may actually land on something that spikes your brand awareness!
Video Predicted to Dominate Social Media Content Forms
Gone are the days when business leaders had to empty their marketing budget on polished, professionally-produced video content. Consumers actually have grown to prefer more authentic, self-produced content like Instagram Reels. Data reported by Social Media Today indicates that in Q2 of 2022 alone, "the median interaction count for [Instagram] Reels was almost 40% higher versus traditional videos."
Brands are also turning to TikTok to generate engagement by leaning into user-generated content (UGC). The hashtag #TikTokMadeMeBuyIt has grown to over 32 billion views. Both Reels and TikTok videos are affordable ways to promote your brand and strengthen your social media presence.
And, while such an approach is typically better for B2C brands, there are ways B2B brands can use UGC in videos to increase brand awareness and engagement on social media platforms. In fact, customers are rising as B2B influencers. Social Engine Journal notes that 46% of B2B brands report partnering with customers as influencers.
Building on that…
Customers as Influencers: A Perfect Niche Under the Social Media Umbrella
Some might say influencer marketing witnessed meteoric growth, going from a $1.7 billion industry in 2016 to $9.7 billion in 2020, then $13.8 billion in 2021 and finally $16.4 billion in 2022. Doesn't sound like the influencer market will stop anytime soon!
Yet, there's also been a shift from mega/macro influencers—celebrities that only mega-companies can afford—to smaller influencers (nano influencers, micro influencers). Now, the trend is moving towards UGC in the influencer ecosystem. It's far less expensive and provides the sense of authenticity consumers not just appreciate, but actually demand.
Plus, it's highly effective. Data indicates that UGC gets 29% higher web conversions than campaigns or company websites without it. This makes sense, as consumers tend to trust other consumers. Of course, there are methods other than using UGC in just social media. Overall, it's a solid strategy for companies of all sizes.
[Read more about user-generated content here.]
Social Media as a Customer Support Vehicle
"CX" (customer experience) has been a recurring theme throughout the last few years. Now that more people are turning to social media to do product research, ask questions, and make purchases, it will be important for businesses to be able to serve buyers with customer support capabilities.
A study by Emplifi, which is a customer experience research firm, points to the fact that Gen Z is the most demanding in this regard. Yet, every consumer is unique. If you don't have a primarily Gen Z audience, it's still imperative to establish customer support via social media. Emplifi calls this "post-purchase care."
"Companies need to adopt an 'always on' approach and scale their efforts to provide a seamless experience on the platforms on which their customers are," states Emplifi CXO, Shellie Vornhagen.
Small businesses and solopreneurs may not have the capacity to support that always-on approach, but they can temper expectations among their customers by being upfront and honest about their CS bandwidth. For instance, if a coach or consultant received a CS inquiry during the middle of the night, it's completely understandable they would not answer until the following day.
Social Media Best Practices to Continue Into 2023
There will always be emerging technologies and trends that impact your social media strategy. However, some "best practices" apply no matter which platform(s) you focus on. Here are three to consider:
Never underestimate the power of the "repurpose." Some content messaging is more appropriate for Instagram than LinkedIn, but oftentimes you can spread your already-created content across multiple social media platforms. There's no need to reinvent the wheel. Plus, a prospect might be on multiple platforms but focus on one over the other.
In your social media efforts, "vanity metrics" can be deceiving. Out of the 300 views your post got, how many of them actually contributed to your business growth? Sometimes, that's difficult to measure. Yet, 2023 is going to be about developing and fostering relationships with your followers.
If you're a B2B business, there is much opportunity for growth via social media platforms. LinkedIn isn't just a place to store your profile and make connections. A regular posting schedule of sharing business advice/tips, offering a "freebie," and sharing your thought-leadership content can do wonders for expanding your customer base.
What's Next for YOU?
This has been a bit of a "holistic" view of social media predictions for 2023, but there are many platform-specific considerations as we move forward in 2023. If you're not seeing the results you'd like from your social media efforts, Crackerjack Marketing is here to help. Our experts always have their fingers on the pulse of what's going on in the social media sphere.
Get in touch with us today so you can maximize your social media presence and get the greatest return on your investment.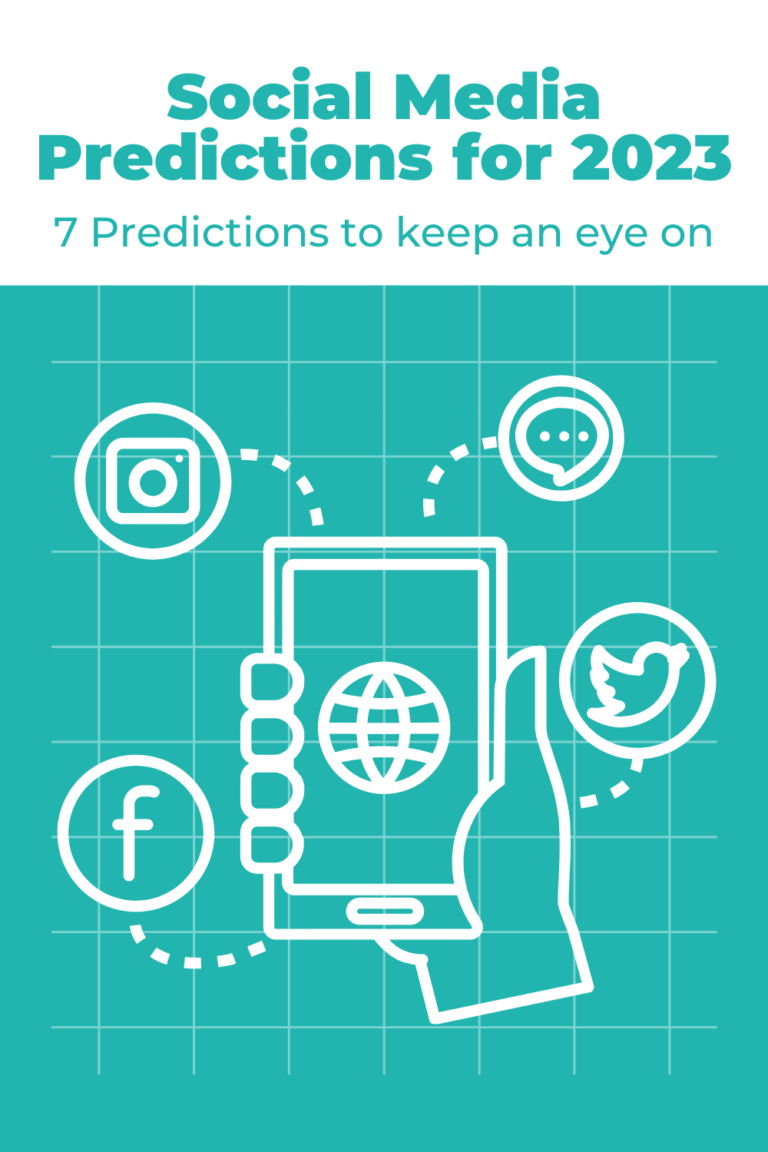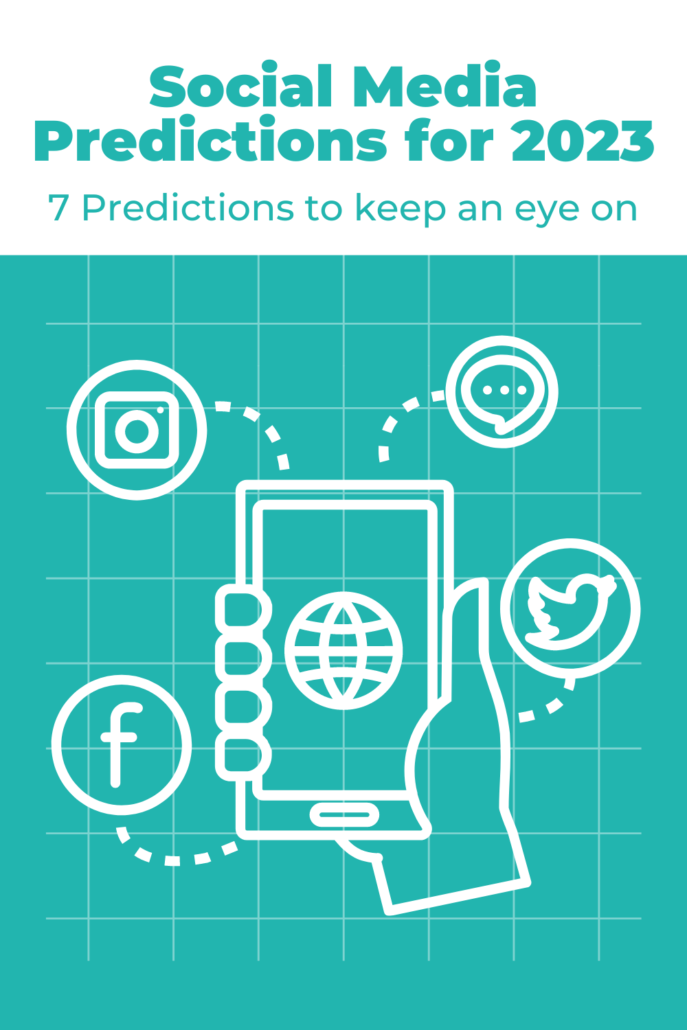 The following two tabs change content below.

Sylvia Anderson
Sylvia fashions herself a "content chameleon," having dipped her toe (okay, whole leg) in the pools of various genres and mediums. Her ability to adapt her voice to copywriting, social media, screenwriting, non-fiction children's books, blogging, podcasting, and poetry makes her a "Jane of All Trades" when it comes to the content scope. Raised on a dairy farm in rural Minnesota, Sylvia has since become an official Angeleno–residing in Los Angeles, CA for the last 15 years–where she *attempts* to stay cool (but enjoys being able to run outside nearly every day). When she's not writing, running, or watching sports, she delights in the company of her two fur baby kitties, Mac and Cam.

Latest posts by Sylvia Anderson (see all)
https://crackerjackmarketing.com/wp-content/uploads/2023/01/Social-Media-Predictions-for-2023.png
675
1200
Sylvia Anderson
https://crackerjackmarketing.com/wp-content/uploads/2017/02/CJM-Header-Logo-New.png
Sylvia Anderson
2023-01-11 14:53:51
2023-01-18 11:13:57
Top Social Media Predictions for 2023