12 Tips for Using Instagram for Business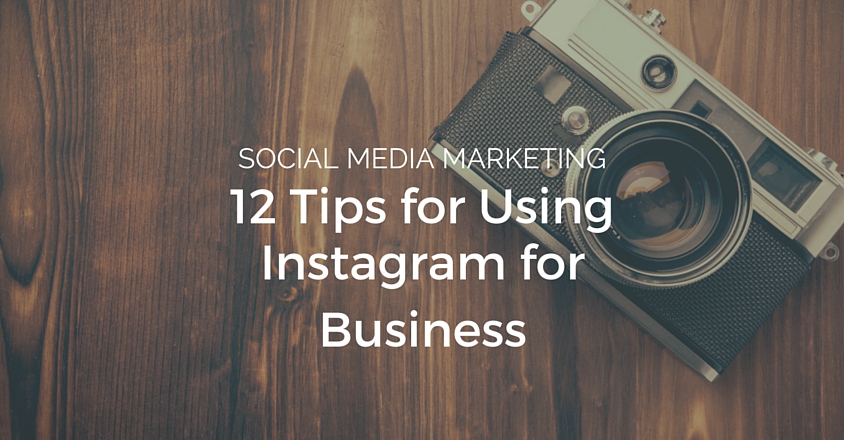 Instagram has certainly proven to be an unstoppable force among social media channels. With 500 million (and counting!) active users and 200,000 advertisers, it's no wonder many brands and businesses are trying to reach customers through Instagram.
There are many things you could (and should) be doing to get the most mileage out of the time and energy you put into Instagram. While some won't cost you anything more than your own time and effort, there are other options to consider, if you have a little bit of budget to spend.
No-Cost Ways to Increase Organic Instagram Engagement
Organic engagement and growth is every marketer's ultimate goal. While nothing is ever guaranteed when it comes to social, there are some things you should be doing to increase your chances of organic Instagram activity.
1. Share what matters most
It's a mantra frequently repeated by smart marketers; "It's not about you. It's about your community." The first thing your brand should be doing on Instagram is to make sure you are sharing the visual content that most appeals to the audience you are trying to reach. What you think your audience wants and what they actually want could be completely different.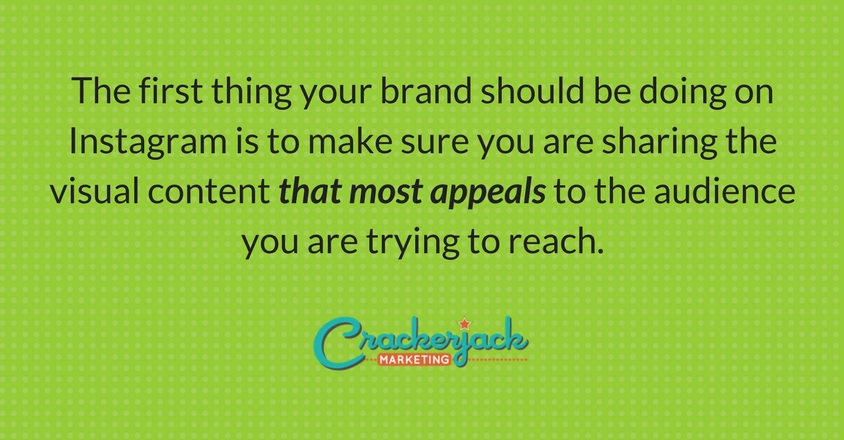 We suggest trying new things to find out what resonates. Don't just leave the final decision to your "gut instinct," though. Use this three-step process to get the true picture:
Test: Try different themes and images. Include products, people, experiences. Try lifestyle shots that relate to your community.
Analyze: Once posted, take a look at how many likes and comments that image received.
Repeat: If you like what you see, keep that process going! But don't stay stagnant; this should often be done for the best results.
2. Plan ahead
If you've been reading the Crackerjack Marketing blog for any length of time, you know that we are big advocates of using an editorial calendar. For a lot of brands, editorial calendars are limited to blogs, but you shouldn't stop there. Use an editorial calendar to plan your Instagram content. Not only is this an efficient way of managing your content, but it will also give you a "bird's eye view" to ensure you strike that perfect balance between promotional and themed content.
If you don't have an editorial calendar in place yet, go here to get our free template. It's what we use for our clients and ourselves
3. Add a hashtag or two (or 11)
A hashtag can be your best friend. In the case of Instagram, the magic number appears to be 11. The more hashtags you have, the bigger chance someone will find that tag and ultimately, find you!
Here's how hashtags on Instagram can work for you: If you tag #summer in your post, anyone who searches for that tag could be led right to your picture. Your hashtag should be, of course, relevant to the picture and your brand, clear, not controversial, and popular. Once again: test, analyze, and repeat will help you tag successfully.
If you haven't dived into geo-targeting hashtags, now is the time. If you want to grab the attention of New York residents, you might add #NYC or something more specific like #TimesSquare to your caption or in your comments section. If Chicago is your home, tagging #TheBean could attract locals and/or tourists to your area. Visit Trendsmap.com to find a hashtag near you.
4. Showcase your Instagram community
Don't forget that your fans and followers are posting photos, too! User-generated content expands your social reach and your brand's awareness. Encourage your followers to send you a direct message of them using your product with the intention of posting it to your feed. If a customer or a fan's image catches your eye, don't be afraid to repost it to your account (we recommend using the Repost app).
User-generated content will not only expand your reach but will build trust between you and your users (and their followers!). 81% of users are influenced by what their friends post, so word-of-mouth goes a long way.
5. Participate in the conversation
While the old adage may tell us that a picture is worth a thousand words, images are only half of the Instagram equation. The other half is being proactive and reactive. 34% of people use social media to interact with brands, so responding to conversations is just as important as starting conversations. Once you react with those people, 75% of them will share the interaction with you. Yes, that means whether it was good or bad.
Not answering, as you could imagine, will also have an affect on your brand. Don't lose loyalty to your competitors by not taking part in the conversation.
6. Do your homework
You may be asking, "How do I find those conversations ?" Go back to the relevant and trending hashtags you've been testing out, and engage with the people using those hashtags. Instagram also allows you to add your location to a post, so check that and engage with people in your area!
Check in on your competitors to find what hashtags they're using, what conversations they're partaking in, and see what is and isn't working for them.
7. Cross-promote your account
Does your business already have a vibrant Facebook page or Twitter account? How about an email newsletter or a blog? Send out an invitation to your followers on those channels to join you on Instagram too. If your follower base grows quickly on any one channel, be sure to send out the call-to-action on a regular basis so that your new followers on Facebook know about your Instagram account too.
If you have a blog, write a dedicated blog post announcing your account. Better yet, create monthly blog posts featuring your favorite Instagram content or posts from your followers.
Now that you're a master of growing your Instagram community organically, it's time to talk about what you can do if you have budget you can use towards Instagram.
Maximizing Your Instagram Budget
If you're doing everything you can to make your brand shine organically on Instagram but you're still not achieving the results you'd like to see, or as quickly as you'd like to see them, you may want to consider allocating some of your social media budget to help give your Instagram account a boost. Whether you have a little or a lot to spend, you want to make sure you are spending it wisely.
8. Use Instagram ads
Paid ads have made a large impact on brands using Instagram. There are various benefits to using ads, mainly being that they're native, they drive traffic directly to your site from your feed, and their reach extends beyond organic posts. Paid ads also offer a single-tap to reach a landing page, a call-to-action, and acts as an extension of ads you've already created on other channels. There isn't a hard and fast rule regarding how much you should spend on Instagram ads. Of course, the more money you can spend, the more results you're likely to achieve.
Regardless of how much (or how little) you spend, you want to ensure that the ads perform as best they can. Here are a few tips you can use right now to help make the most out of your Instagram advertising efforts:
a. Create for mobile
Since Instagram is a mobile application, brands should make sure their customers' experience is enjoyable and easy-to-use on a mobile device. Once someone clicks on your ad, what will they see next? Limit the number of pages and actions they have to go through. Short and sweet – get to the point.
b. Use a call-to-action button
What do you want your users to do? Shop for a product? Sign up for a newsletter? Learn more about your brand? A call-to-action button tells your followers what you'd like them to do. It's their guide on the map of your ad. The beauty of a call-to-action button is that it can change! Test, analyze, and repeat applies here, too!
c. Brand your ads
This might seem like a no-brainer, but it's surprising how many brands miss this. Your brand has a personality, and so should your ads! Including your logo and identifying color palette makes it stands out from an organic post. McDonald's is a fantastic example of this because it doesn't take long to recognize to whom the red, and yellow colors or the golden arches belong.
d. Test, analyze, and repeat (yes, again)
Don't assume that your first ad is your best ad. Be sure to test different call-to-action buttons, hashtags, caption lengths, and images. Keep in mind that what worked this week might not work next week. See what your audience responds to, and modify your ads accordingly.
e. Use carousel ads
Carousel ads are a new option for paid Instagram ads. It allows for multiple pictures in a single post, which users can swipe through to get the full effect. It's the second-best thing to videos, giving followers the option to interact with the image itself instead of watch a video.
If you're releasing a product or collection, a carousel ad will tease your users panel by panel by the featuring pieces or products. This allows you to pick and choose what features you want to highlight, and what story you want each picture to tell about the product. Don't forget: a carousel ad with more pictures doesn't mean you can skip out on adding a caption. 
9. Host a sweepstakes or contest
Sweepstakes and contests can be a fantastic way to get your community engaged. Not only that, this is one of our favorite tactics because it can be done with a limited budget. Combine what you learned above, for organic posts, with a prize and a call-to-action and you have the potential to achieve great results.
This works exceptionally well for B2C brands with a product or service that can be offered as a prize.
Crackerjack Marketing client, You Be-Natural, implemented a "tag-a-friend" sweepstakes on Instagram and achieved great results.
10. Use scheduling tools
Using an editorial calendar is the first step in wrangling your posting efforts. The next step is to automate what you can; we recommend using scheduling tools such as Grum.co or Schedugr.am. Both of these are fairly affordable and allow you to schedule out your planned content ahead of time so you can spend your time on engaging with your community.
11. Work with influencers
Working with respected influencers is another way to help jump-start your Instagram activity and build more awareness for your brand account. Influencers don't work for free, though. Remember, working with influencers falls under paid, not earned, media.
Be sure you're working with the right influencer for your brand. Yes, looking at their number of Instagram followers is important but not as important as making sure that person's followers are the community you are trying to reach. It's better to reach 1,000 people that are a perfect fit for your brand rather than 100,000 that only might be interested.
12. Invest in professional analytics tools
Instagram doesn't yet have built-in analytics for brands like Facebook, Twitter or Pinterest do. If you're posting with any frequency, manually counting your likes and comments can be a huge time-suck. However, it's important to be able to measure your follower growth and engagement trends over time, not just on a post-by-post basis.
Paid analytics tools can also offer metrics such as reach, most frequently used hashtags and influence of other Instagram users engaging with your account. All of these can be helpful in informing your organic strategy.
By putting your best foot forward in your organic and paid Instagram efforts, you will gain and retain followers, keeping them coming back to your Instagram for exciting content, quick replies, and hopefully, to invest in your brand!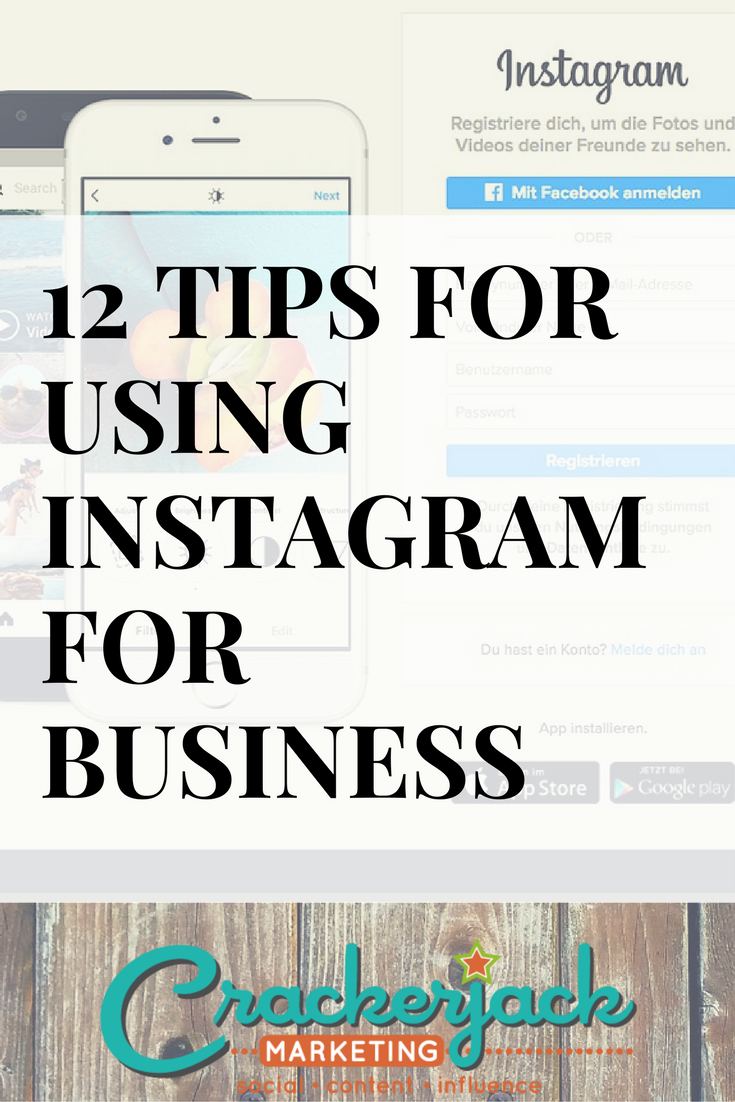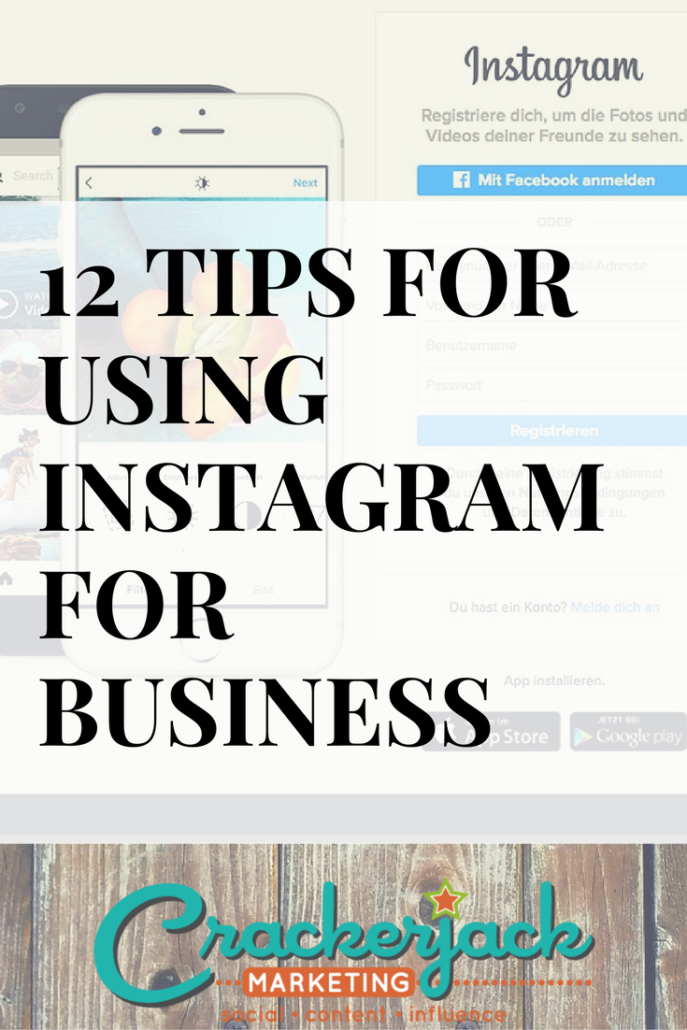 The following two tabs change content below.
Lesley Lloyd
As a 2014 graduate of Albion College, Lesley is honored to jump-start her career in community management with Crackerjack Marketing. She believes in the power of the Internet and the force behind social media. You can find her on any given day behind a computer or scrolling on her phone interacting with Crackerjack's clients and sending them love and appreciation.
Latest posts by Lesley Lloyd (see all)
https://crackerjackmarketing.com/wp-content/uploads/2016/07/instagram-for-business.jpg
440
844
Lesley Lloyd
https://crackerjackmarketing.com/wp-content/uploads/2017/02/CJM-Header-Logo-New.png
Lesley Lloyd
2016-07-21 09:00:02
2022-06-10 22:07:55
12 Tips for Using Instagram for Business