If you are in business and you don't have a website, you should set up a blog. If your hesitation was the cost and complication of a website, just know that a blog is simple to set up and either free or inexpensive.
People expect you to have an address on the web. If someone wanted to call you and you said you didn't have a telephone number, they would probably move on to the next option on their list.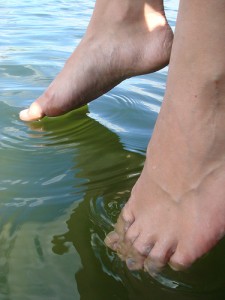 But, importantly, you are probably on the web whether you intended it or not. Anyone who Googles you will find a miscellaneous collection of information about you personally and possibly about your business as well. They will see your Facebook page (if you have one), a Yelp review of your business, or a comment you made on a forum or a blog two years ago. The list goes on. A certain number of potential customers will look for you this way, and what appears by chance will be the impression that they walk away with.  Maybe it's all great. But it isn't necessarily the picture you want to present.
A new brand-new blog is worry free because it won't get a lot of traffic at first and you can test things, practice and learn as you go.
Here is the information your new blog should include:
The name of your business
A page describing your business that differentiates it from other businesses like yours
Information about yourself and other key people who work for you.
If you don't have a website, creating blog is dipping a toe in the water. It's simple. It's inexpensive. It's better than nothing. Show it to a few people. Ask them what's missing. Ask them to tell you what impression they get about your business from your blog. Tweak it. See how much more useful it is than a business card for telling people about your business.
Once you've lived with your blog for a little while, start building on what you have. Soon you'll be knee deep and ready to go for a swim.
image source: flickr (mrvjtod)
The following two tabs change content below.
Stephanie has 20 years' experience in digital media and 12 in social media and content marketing, and has been blogging personally and professionally since 2004. She loves to try new social media platforms but mostly maintains her first love, Twitter, @stephanies.
Latest posts by Stephanie Schwab (see all)
http://crackerjackmarketing.com/wp-content/uploads/2017/02/CJM-Header-Logo-New.png
0
0
Stephanie Schwab
http://crackerjackmarketing.com/wp-content/uploads/2017/02/CJM-Header-Logo-New.png
Stephanie Schwab
2011-07-07 04:05:02
2016-03-25 04:07:38
No Website? Then You Must Have A Blog