We hear many questions in our Social Media for Executives and Business Owners class. One of the most common is "What's the difference between a blog and a website?" The answer is simple: a blog is actually a type of website. It has an address on the Internet, and it's a place where you can create and post content of all types, ranging from written content to images and videos.
The main differences between a blog and website are that a blog's content is organized by date, with the most recent content appearing first (reverse chronological order), and that each blog post is usually open to comments, which allows for interaction. Blog software and platforms allow you to create your blog from a template, so you don't have to custom design every aspect of it. A website is typically more static, which means the information doesn't change much unless you add new products to it. Websites tend to resemble digital brochures. They can, however, incorporate a blog (quite easily too!).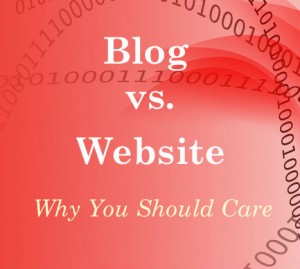 The major blogging platforms, such as WordPress and Blogger, are free to use. At Social Media School, we always recommend setting up your blog at your own domain (URL) or on your website (atblog.yourwebsite.com oryourwebsite.com/blog) so that the traffic your blog generates comes to your website and not to wordpress.com or blogger.com. If you need a new domain to host your blog, there's a small cost to buy the domain and host it with a provider like GoDaddy or1and1.com. Beyond that, you can get professional technical and design help to customize and visually brand your blog. This will add to your costs, depending on your needs and choice of vendors. In all, it should cost between $500 and $5,000 to set up a blog, depending on the level of design and complexity you need.
A blog is a form of social media. People can respond to the content you write by commenting directly on each post, and you can respond to them. Most blogs are also designed with sharing buttons so that people can easily share your information, for example, on Twitter or Facebook or by email.
Google and other search engines give higher rankings to fresh, relevant content. If you're keeping your content fresh by providing helpful information and updating your blog regularly, search engines will make it easier for people to discover your blog. By contrast, search engines do not give the same weight to regular brochure-style or e-commerce sites because their content is primarily promotional and static rather than helpful and relevant to people looking for current information and solutions.
WordPress, the software we recommend at Social Media School, is open source, which means anyone can create plugins (programs that provide a wide variety of functionality). This includes everything from calendars to shopping carts to social sharing buttons. A blog, and in our opinion, WordPress blogs in particular, can replace a website because WordPress allows you to create a more traditional type of home page and then add a blog as a tab on your site. This way, you can promote what your company does on the homepage and still benefit from the blog content elsewhere on your site. You can also add your blog to an existing website by adding WordPress or Blogger software to your site. Your webmaster or graphic designer should be able to help with that.
The time and effort it takes to maintain a blog may be significant, but the benefits can be tremendous. Consumers have come to expect more than just promotion from the companies with which they connect. And if you want to encourage visitors to return to your site, give them a reason to do so. Provide the kind of regularly updated and useful content they expect from a blog.
The following two tabs change content below.
Stephanie has 20 years' experience in digital media and 12 in social media and content marketing, and has been blogging personally and professionally since 2004. She loves to try new social media platforms but mostly maintains her first love, Twitter, @stephanies.
Latest posts by Stephanie Schwab (see all)
http://crackerjackmarketing.com/wp-content/uploads/2017/02/CJM-Header-Logo-New.png
0
0
Stephanie Schwab
http://crackerjackmarketing.com/wp-content/uploads/2017/02/CJM-Header-Logo-New.png
Stephanie Schwab
2012-05-08 04:31:04
2016-03-25 04:32:40
What Is The Difference Between A Blog And A Website?